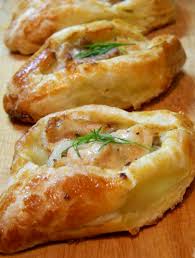 Rasstegai: Rasstegai are little pies with a filling exposed from the top. Their name comes from the Russian word rasstyognutyi meaning "opened up". The filling for the rasstegai can be made from rice, mushrooms, chicken, eggs, sausage and or many other food items…
You are limited to only what you desire. In this case lets make a mushroom and black olive filling…
Ingredients:
For dough:
800 – 900 grams (1.8 – 2 lb) – flour
1/2 liter (1 pint) milk
30 – 50 grams (1.5 – 2 oz) yeast
250 g (8.8 oz) butter
2 – 3 tbsp sugar
2 tbsp oil
salt and pepper and garlic just a pinch. (Or More!)
For Mushroom and black olive Filling:
100 g (3.5 oz) boiled rice
100 g (7 oz) dried mushrooms, washed
100 g (7 oz) dried black and or green olives, washed
1 onion, tiny
2 – 3 tbsp butter
1 egg yolk, 1 oz butter – to brush top of the the rasstegai.
Directions:
First of all you need a yeast dough…
Make the dough: place all ingredients in the bowl, knead the dough by hands, than make it into a big ball, and leave it in a bowl to puff up, covered with a damp cloth for about 45 minutes in a non drafty warm place…
Then while waiting for the dough to rise…
For a stuffing: Lets use mushrooms and black olives…
Soak the mushrooms and the black olives, then cook. Minced and fry the mushrooms and black olives with butter in a sauce pan, add the chopped onion. Fry thoroughly. Combine with the cooked rice and mix thoroughly. Makes a yummy paste (do not keep tasting the filling!) I like to add salt, pepper, garlic powder and what ever as per my taste to the filling mix….Yes and that last tiny piece of cooked chicken breast goes perfect diced up and tossed in also….Stop eating all the filling! You need some for the little boats you are making!
Now lets roll some dough and make little boats for the stuffing…
When it is puffed up good and fluffy, divide it into small portions. Roll the dough balls out on a floured work surface, and place a spoonful of the stuffing in the center… (Did you eat all the filling?)
Pinch up the edges of the dough around the filling to make round or oval pies (this is where the artists get to shine in design,) leaving the center uncovered. Remember do not cover the whole pie completely. Put the rasstegai on a baking tray greased with butter and leave in a warm place for the dough to rise the second time. This time filling inside…
Different ways to make them…

As soon as they are ready, brush with egg yolk and bake in the oven 200 – 210 C. 20 to 25 minutes (or less) in a preheated oven, They do not take long, for all you are doing is baking the bread…
* * * * * * * * * *
These are really simple to make and can be made with just cheese inside too fancy as you desire, of a filling as you can imagine. Just make sure all filling is a cooked product first. Do not try to cook raw meats inside these boats of dough…
Save some of these delicious hot pies for the rest of the family. Or make two batches if need be! 😉
WtR