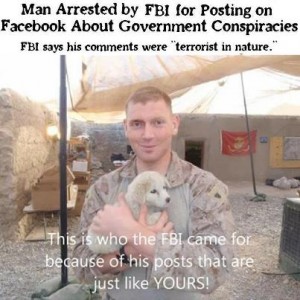 I have seen the video and I know what I believe and this is definitely a sign of the way America is and will progress, until you all hide under the bed…
Brandon J. Raub has been ordered to stay in a mental health institution for a month without charge – and contrary to the American constitution, his defense says. His supporters are concerned any American could end up in Raub's shoes.

­US police detained Raub, 26, a Marine Corps veteran, on Thursday, without presenting any charges and even without reading to Raub his Miranda rights, and took him to John Randolph Medical Center, where he is currently being held involuntarily, his defense said in a press-release.

A video of his detention emerged online, triggering outrage online, including among American citizens and human rights activists.

"For government officials to not only arrest Brandon Raub for doing nothing more than exercising his First Amendment rights [to freedom of speech], but to actually force him to undergo psychological evaluations and detain him against his will goes against every constitutional principle this country was founded upon," said John Whitehead, executive director of the Rutherford Institute, a civil liberties group that has come to the Raub's defense.
I don't accept it and it is time for a change in the American political situation. But how is it going to be done? You stand up against it and you will be taken down…
That is the point, a single you can not do it, but a whole bunch of you's can do it…
Freedom is gone in America…
Kyle Keeton
Windows to Russia…