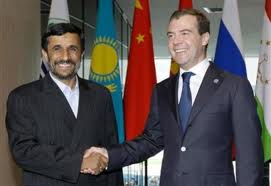 I had an article awhile back that expressed what was to become a forward momentum of countries switching currencies to do business with each other with. China and Russia are working with their currencies instead of $ dollars and now it is official:
Tehran has accepted Moscow's proposal to use the ruble instead of the dollar in mutual trade payments in response to tighter U.S. sanctions imposed in January, the Asia Times newspaper reports. Breaking the news on Tuesday, the Iranian Ambassador to Russia Seyed Mahmoud Reza Sajadi said that President Dmitry Medvedev had made the offer to President Mahmoud Ahmadinejad when they met during the summit of the Shanghai Cooperation Organization last summer…
The West forced this to happen because of the ridiculous sanctions that they keep imposing against Iran. Sanctions that are for something that Iran is not doing….
Russia is smiling because this is what Russia wants. It has not been new news for along time, that Russia wants to be a world currency and have rubles used for oil. That dream is starting to happen because of patience and a Western world that is collapsing…
Medvedev has tried to make back up with Iran after he trusted the US and past deals. This has not been an easy thing to do because Medvedev really messed up. But it looks like amends are in the works and I am starting to hear about the missile defense that was to be sold to Iran coming back on the table again…
Russia is also starting to develop a strategic reserves of oil and gas. This is the same as gold, money, silver and other currencies. Russia has figured out that oil is money just like gold and silver is. It is a finite product that has tremendous demand and that demand will only go up in the long term. Oil ultimately will become worth its "weight in gold", as we say…
Other words oil can be bartered with…
One thing that has to happen to keep this world safe from Western aggression is that the Eastern countries have got to start realizing that they have to stick together and form a reliance to counter the West. The West will try to take the world with it as it collapses…
Kyle Keeton
Windows to Russia!