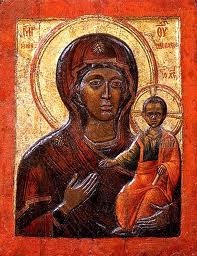 Give you something from the Western press to chew on today…
Moscow: By Fred Weir
Russia emerges as Europe's most God-believing nation:
Two decades after the collapse of the USSR, history's most atheistic state, the vast majority of Russians attest to a belief in God – more than in any other European country – according to a new opinion poll.
The survey, carried out in April by the independent Public Opinion Fund (FOM), found that 82 percent of Russians say they are religious believers, while just 13 percent say they do not believe in any deity.
But the powerful Russian Orthodox Church will find nothing to celebrate in the survey's details.
The church claims 70 percent of Russians as its adherents and on the basis of that has successfully pressured the Kremlin to return most church property seized by the Bolsheviks almost a century ago, including vast tracts of land, churches, monasteries, and thousands of religious artifacts formerly held by state museums. Read More >>>
and or this…
By Walter Rodgers
How Russians survived militant atheism to embrace God:
Sometimes really huge news stories occur that receive almost no notice, but they are seismic just the same. Today, less than 20 years after the collapse of the officially atheistic Soviet Union, Russia has emerged as the most God-believing nation in Europe, more so than Roman Catholic Italy or Protestant Britain. The independent Public Opinion Fund poll discovered this spring that 82 percent of Russians now say they are religious believers.
Given the brutal and ruthless repression by Joseph Stalin of the Russian Orthodox Church and all religion, this is truly a remarkable statistic. It is a testament to the babushkas who would not capitulate to Soviet bullying. Hoorah for the hero grandmothers of the motherland! Against all odds they have won.
Read More >>>
Interesting how they praise Russia and at the same time tear down any good about Russia. The issue to me is, that if Russia is Europe's most God believing nation then what does that say about Europe?
Windows to Russia!