Then This…
Then This…
The Moscow alternative to NATO bombardments in Libya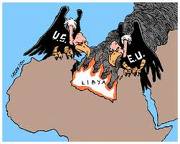 The Moscow alternative to NATO bombardments in Libya The British Queen's visit to Ireland – a helping hand for the economy?
Then This…
NATO aircraft bombs Tripoli
NATO aircraft on Tuesday night carried out a number of bomb attacks on the area of Tripoli housing Gaddafi's residential complex "Bab-el-Aziziyah". 19 people died, some 150 received injuries.
Then This…
NATO likely planning ground operation in Libya, says Rogozin
NATO is resolving its own problems in Libya. This opinion was expressed by Russia's envoy to NATO, Dmitry Rogozin. According to him, the international coalition may be preparing a ground operation in the Jamahiriya. This is indicated by transfer of French and British combat helicopters to Libyan shores.
Then This…
Russia expects NATO explanations on Libya
The NATO operation in Libya has boiled down to attempts to overthrow Muammar Gaddafi, said Dmitry Rogozin, Russia's envoy to NATO, in a live programme of the Russia 24 TV channel. He said that "everything that NATO is doing runs counter to the UN Security Council resolutions". Russia insists on the alliance giving an account of the objectives and results of the hostilities in Libya.
Windows to Russia!