Patriarch Kirill of Moscow and All Russia will lead a religious service and a water blessing ceremony in the Cathedral of Christ the Savior in Moscow on the eve of Epiphany on Monday. Brave Russians wash their sins away by taking a plunge in icy waters celebrating Epiphany!
Washing their sins away, some jumped and others chose to walk in to the cold water to rid them of their sins. Some start with only their big toe, but all go into the frozen water and do this every year…
Marking Epiphany, priests blessed the water before believers took the holy bath. The Russian Orthodox Church believe that bathing on this day commemorates the baptism of Jesus Christ in the River Jordan.

Takes time for the video to show itself. Please be patient…
All else fails; here is link…
http://www.reuters.com/news/video?videoId=74719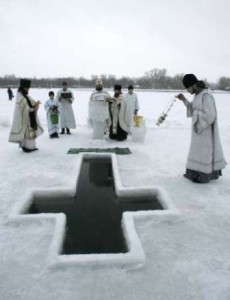 According to the old Russian tradition, on Epiphany, people dip into water in holes made in ice. Bathing often in severe frost is a popular tradition. Patriarch Kirill supports such brave persons, but reminds that it is not a folk fun, but participation in a sacrament ceremony…
The Russian Emergencies Ministry has examined 3,000 places for safe bathing. About 60 such places are prepared in Moscow, and more than 90 near Moscow. There will be warm tents with hot tea, and rescuers and medics will be on duty at the sites…
Traditionally, mass bathing of about 10,000 people is expected to take place in Kosino in eastern Moscow. About 6,000 may bathe in the Tsaritsino pond. A wooden reservoir will be placed at Revolution Square in central Moscow…
One of the most popular places near Moscow is located near the New Jerusalem Monastery near the Istra River…
About 300,000 people plan to participate in Epiphany bathing in the Moscow Region on January 18 and 19…
WtR