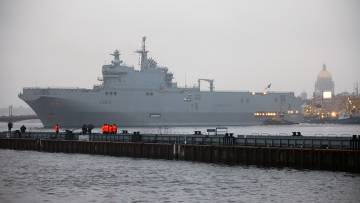 I have written several times about this subject and Russia is without a doubt a serious contender to purchase Warships that have the latest technology on them.
It seems Russia has gathered data from three countries and the country that gives the best deal on four Warships seems to be the winner. It is wide spread news in Russia that this deal is to gather new technology for advancement of future Russian designs. Some have a real notion that this is not a good thing for Russia to do…
Russia has reached the final stage of talks on the purchase of four French Mistral-class helicopter carriers, the Russian defense minister said on Monday.

"At the moment we are in pre-contract talks on the warships with three states: Spain, the Netherlands and France. We plan to sign a contract for four of these ships," Anatoly Serdyukov said. (Link)
I think that Russia is smart and getting three countries to give deals on this Warship. The deal is in the additions that are included…
Windows to Russia!