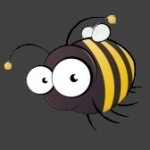 Russian Bees, a bee that collects pollen at even 38 degrees Fahrenheit or 3 degrees Celsius and endures hardships that only Russian Bees could understand. When winter is 7 months a year and pollen time is short, Russian Bees have to "get er done" or else. It seems that Russian Bees have adapted to such harsh conditions that they have become a super bee in many ways. They even produce as much honey, or even more honey in many cases, than their counterparts in the rest of the world. Could the Russian bees save pollination in the USA? Could the Russian bee save pollination in the rest of the world?
Russian Bees are tough and why?
1. Varroa mites, a tiny parasite that can infest beehives have been declared by the, "US Department of Agriculture (USDA) and the Environmental Protection Agency (EPA) as the single greatest cause of the dramatic decline in the US honeybee population, which has fallen from 6 million colonies in 1947 to 2.5 million today…"
It seems that many moons ago, the Russian Bees grew to adapt to these mites and have learned to live and thrive with them present. The American Bee is being decimated by these mites and the Russian Bees dance with them at night…
2. Russian Bees gather pollen when other bees are sitting by the fireplace and warming their wings. It can be almost freezing out and you will find Russian Bees happily flying around and gathering pollen off of those almost frozen flowers…
3. Russian Bees are – well – Russian Bees and that means they are tough. If you live in Russia, then you know that anything that survives a Russian winter is tough…
Honey is taken very serious in Russia. There are huge markets that travel around Russia and sell honey. There is more varieties of honey than there are people in Russia. Processed honey is a crime in the Russian eyes and a honey seller takes great pride in his product. Bee hives are everywhere and everyone has their special type of honey produced by their special bees and their special fields of flowers. Why we have many bee hives in our tiny Russian Village. The Orthodox Church has these hives for thir use. I call it "Pine Cone Honey," as that is all that is around for pollen in our Russian Village…
Why am I bringing this up? Well in most of the world, the bee population is declining and with that decline the ability to reproduce food is dropping with the bee decline. Bees single handily pollinate the world and food is the result of that. One of the most important issues we are faced with in this day and age is the bee decline…
No bees – no food – no people! Russia has bees and they are doing great…
Post by Kyle Keeton
Windows to Russia…
The copy scores 69.1 in the Flesch Reading Ease test, which is considered OK to read.