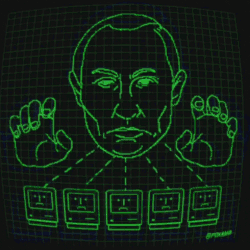 Or are countries like Russia, China and North Korea that strong? We always blame the three listed when we fail at anything…
A massive suspected Russian cyber campaign is being called the biggest breach in American history and a 'grave threat' to the government and private companies, with the Senate's No. 2 Democrat demanding a 'response in kind.'

The sprawling attack, which targeted critical government infrastructure using a Trojan horse hidden in network management software from SolarWinds Corp, also compromised broad swathes of the private sector, including Microsoft and likely most of the Fortune 500, it emerged on Thursday.

Officials say the attack went undetected for nearly nine months, allowing the hackers free range in the affected networks, including at the Pentagon, FBI, Treasury, State Department and nuclear security agencies, and that the true scale of the stolen information may never be known.
Source: Russian hack of federal government is 'hard to overstate' says ex-homeland security adviser | Daily Mail Online
I guess when it is done to us?
We don't like it. For we do such as this to everyone else in the world…
We are that weak and unaware of our surroundings? Do we blame others to cover up our issues? Why admit that we are that weak at protecting ourselves? Our did we do something that we need a scapegoat for?
Either way; The USA looks pathetic and weak…
9 months hackers danced among our servers and networks…
It should make you ask questions as to why this could happen and if it did happen? How really did it? The ones who allowed it to happen and or say it happened? Coverup it is always coverup for others faults…
~~ Russia did it again and again… ~~
~~ Watch out, Russia will hack your doggy's in bedded tracking chip and use him as a spy! ~~
WtR
Update:
Hacking Allegations Don't Hold Water, Again "As with the DNC hacks and Russiagate we once again find the 'Russians' being accused of hacking absent any evidence", says Earl Rasmussen, executive vice president of the Washington-based think tank Eurasia Centre. "For one, I am tired of the Russia Hack Syndrome". The scholar recalls that four years ago Russia was accused of "exfiltrating" thousands of emails and documents from the Democratic National Committee's servers and passing them to WikiLeaks
Source: US Media Suffers From 'Russia Hack Syndrome' & Provides No Proof of Breach, as Usual, Observers Say – Sputnik International
Update: (Pompeo does his usual!)
US Secretary of State Mike Pompeo has accused Moscow of being behind the recent hacking campaign against his country. "There was a significant effort to use a piece of third-party software to essentially embed code inside of US government systems", Pompeo told The Mark Levin Show. "This was a very significant effort, and I think it's the case that now we can say pretty clearly that it was the Russians that engaged in this activity".
Source: Pompeo Claims Russia is 'Pretty Clearly' Behind Major Hack Attack on US – Sputnik International