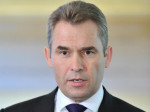 The Presidential representative for children's right says Russia has too many organizations dealing with orphans and wants to see a separate dedicated agency to deal with the issue.
Pavel Astakhov told a Thursday news conference in Moscow that the idea of a special state agency for orphans originated in the Lower House, adding that he as an ombudsman fully supported it but everything depended now on the President and the government.
The ombudsman says 19 separate organizations are dealing with children-related problems and they cannot be effective. Astakhov told reporters that in part the unifying function is now performed by the staff of the presidential plenipotentiary for children's rights, but they could only make suggestions on action and lacked any control to ensure positive changes.
Astakhov emphasized that in order to successfully solve the problems of orphans the state must deal with the social causes.
He also promised a large-scale inspection of all orphanages in Moscow, scheduled for April this year. The ombudsman said his office was ready to initiate additional checks on institutions if there are any complaints. In particular the ombudsman offered to send psychologists to orphanages so that they could verify the facts behind the complaints.
Windows to Russia…