I have been watching this non-fanfare event going on. Russia has been silently working with Saudi Arabia…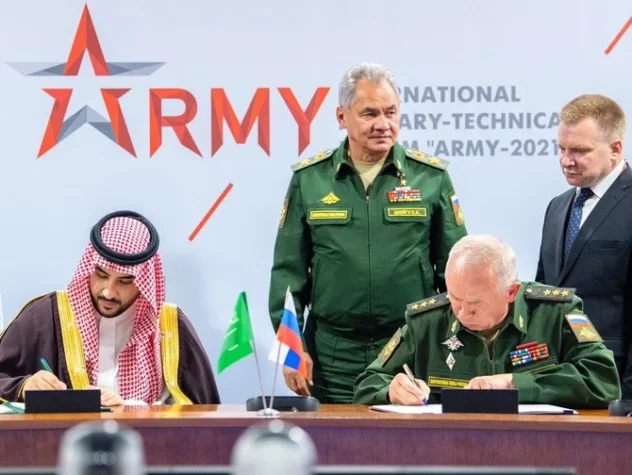 RIYADH: Saudi Arabia on Monday signed an agreement aimed at developing military cooperation with Russia.The Kingdom's Deputy Defense Minister Prince Khalid bin Salman announced the agreement, which he signed alongside his Russian counterpart Colonel General Alexander Fomin.Prince Khalid arrived in Russia on Monday to attend the International Military-Technical Forum (ARMY 2021). The minister also met Sergey Shoygu, the Russian defense minister, and discussed ways to improve military cooperation between the two nations.
Source: Saudi Arabia, Russia ink deal aimed at developing military cooperation
Then a few days later:
The United States has removed its most advanced missile defence systems from Saudi Arabia in recent weeks amid ongoing cross-border attacks levied by Yemen's Houthi movement, The Associated Press has reported.
Source: US removes advanced missile defence systems from Saudi air base: Report | Middle East Eye
Actually since the USA systems really do not work, this is a good thing, but that is not why they were removed. Sometimes children take their toys and leave mad…
I will just keep watching….for I suspect soon we will see Saudi Arabia dealing with Russia and China in their own currencies and besides, didn't we just have some nasty incrimination going on also?
The document (PDF report here) released on Saturday is from 2016, when the now-closed FBI investigation into Saudi links to the terror attacks was still active. Families of 9/11 victims have asked multiple administrations for its release, expecting it to provide proof implicating the Saudi government or Saudi officials. Riyadh denied any connection to the plot. the FBI has released the first of the 9/11 documents declassified pursuant to President Biden's Sep 3, 2021 executive order:https://t.co/vuCGKsNihT — Katie Benner (@ktbenner) September 12, 2021The heavily redacted 16-page document outlines ties between Saudi associates, some of the 9/11 hijackers and various people sympathetic to the Al-Qaeda cause. It didn't provide the smoking gun that some critics of the Saudi government hoped for, but offered more details about the connections.
Source: Declassified FBI 9/11 memo 'puts to bed any doubts about Saudi complicity' says group of victims' families — RT USA News
Hmm….lets watch and see what happens!
WtR