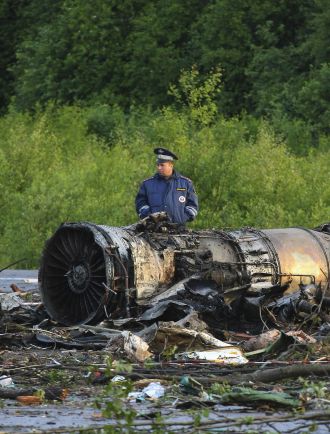 Substitute Pilot at Controls in Crash Tu-134 on Friday:
A plane and flight crew that crashed while trying to land in thick fog at Karelia's capital, killing 44 of the 52 people on board, were provided by a U.S.-affiliated charter airline as a replacement for a smaller jet after too many passengers bought tickets.
The pilot rejected instructions from the air traffic controller to abort the landing just before midnight Monday on the flight from Moscow's Domodedovo Airport, moments before the Tu-134 jet rammed into a highway and soon after exploded into what an eyewitness described as "a pillar of fire."
Local residents managed to pull eight people out of the wreckage before the blaze, including a mother and her two children, aged 9 and 14.
At least nine foreigners, including a Florida-based family of four, were among those who died in the crash.
Deputy Prime Minister Sergei Ivanov indicated that pilot error was to blame, drawing a comparison to the crash of a Polish presidential plane in thick fog in the Smolensk region last year.
The Moscow-Petrozavodsk flight was initially supposed to be operated by the RusLine airline on a Bombardier CRJ200, which has 50 seats. But too many people bought tickets, so RusLine called in RusAir to handle the flight with a 66-seat Tu-134 on Friday, RusLine spokeswoman Svetlana Yakovleva said by telephone.
Source a 4 page article: The Moscow Times
Windows to Russia!