I knew I liked Seagal for more than just whooping up on bad guys and being the toughest cop around. Now I find out for sure that he is a long time friend of Putin's and they regularly meet and discuss business and other items. Now this is going to cause the hate to fly in the Western Empire and I have seen the sparks of disgust being lit all over the place…
First Depardieu and Rodman pissed off the Western Empire and now Seagal is rubbing elbows with Putin…
Lions and Tigers and Bears, Oh My! Says the Western Empire's Media…
It seems that Seagal was in Moscow to open a new martial arts center. Being that Putin is really into martial arts and Seagal is really into martial arts, it just makes sense to me!
But! That is not going over well with the governmental controlled media in the West…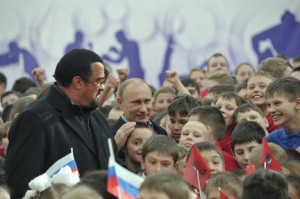 So what I see is hateful western people who have never been to Russia in their life, spouting off like a steaming tea pot and it is all based on what they hear from main stream media. They simple are hateful and that is a reflection of the media and government of where they live…
The one thing I noticed is that Putin is a tiny little guy compared to Seagal and I also thought that Seagal is looking better than he has in a lot of years. He has lost a lot of weight and is looking good again…
I am glad to see these type of things happening in the world now. High profile people and they show the world that it is good to go outside the box and do business and have friends…
The time for you to wake up is here and you need to think about why people hate others for making friends with the world and openly embrace the world as a wonderful place…
That picture above is classic and that is what I see in the Russian youth everyday around where I live. They are great looking kids, not fat, not doped up and really have a good life in Russia…
Time to think about what you have around you and what kind of life you see everyday?
Post by Kyle Keeton
Windows to Russia…