I sip a cup of coffee at 2:30 a.m. and allow my sugar levels to get stabilized, before Boza and I walk this morning. I woke in a daze and immediately took my blood sugar, 3.2 and dropping. I have finally worked my system down and fought through months of false hypos. But when it gets this low, my body wakes me and does not allow me to sleep again. It tells me to get some carbs going…
* * * * * * * * * *
Some people asked about the water tower and therefore, I am standing in the shadow of the top of the bell tower, looking at the water tower. It is almost to the woods at the back of the village. We live at the front of the village and Boza and I walk to fill the wells several times a week to that tower. Not far, for Boza and I walk many kilometers a day, everyday, all the time! Round trip from our home is about one kilometer to the tower…
* * * * * * * * * *
Boza and I were out and it was still very dark. We heard a noise and Boza said, "Monster?" I agreed and said, "Yes, Monster!" So we ran back into the house and hid! We heard the monster leave and now we are safe! 😉
We are such brave guys!
* * * * * * * * * *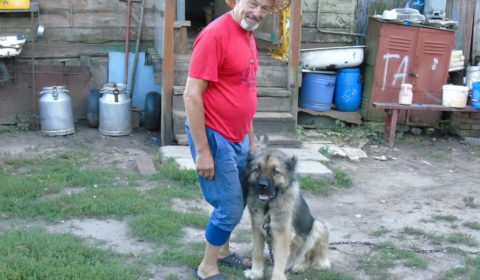 Vova and Mia! Vova does not have a picture of him and Mia together. I took several, this is an okay image. I have a better one, but we will save that for later. Svetochka is going to print it on our Moscow home printer and she is thinking about having a T-Shirt imprinted with it also. Vova and Mia are bachelors too! Well Mia is a girl, but that counts also, as she is a bachelorette…
Yesterday, I ate lunch at Vova's. We had spicy chicken wings, salad and chai. I noticed an area on his wall where he reserves only for family pictures and now amongst these pictures, are the images that we have made prints of for him over the years. There was one empty slot left and I realized that this image of Vova and Mia would be there. Vova first, when he gets a new picture like this, he takes it everywhere with him and shows people. The picture I took last month of him and his antlers has finally found a spot on the wall. Now it is time to give him a new image to show the world…
Oh and when I look at the village and pictures I take, my mind always centers back upon my past and my family from the Ozarks and Smokey Mountains; Hillbillies!
Hee Hee
* * * * * * * * * *
Something that has hit me hard mentally, painfully and expensive, is testing for blood sugar. There are many days I have to do it twenty times of more and test strips are terribly expensive. But as Svetochka says, "Just do it!" and I do!
I work so hard at times, that my sugar will bottom out, yet the day before, it was normal, under the same conditions. At times it rules my life and that is an issue with me…
Sveta is trying to see if Russia has a bloodless tester. I know that there is such a thing out there, but if it can not be found, I will keep poking away. It is a necessity and I accept it…
* * * * * * * * * *
Time to walk Boza, he giving me those sad puppy eyes, it is light out now & no monsters around and Boza is making dog talk at me! Urumph oof harrumph!
WtR