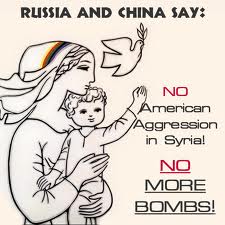 I want you to see a news report from this side of the world about Syria. No this is not a reprint of Western mass media but is ItarTass printing what the East says about the Syria situation…
You will not see this printed this way in your media border locked Western country you live in…
The situation remains tense in Syria. Government troops shelled the rebels' positions in the cities of Al-Quseir and Ar-Rastan on Sunday, while continuing to wipe out the remaining pockets of resistance in the city of Homs.

Groups of terrorists have been killed in two of Homs districts. This made it possible to start rebuilding the section of an oil pipeline that rebel fighters blew up a while ago. 115 bodies of civilians, killed by rebels, have been found in the Baba Amr district of Homs.

According to military sources, many buildings and streets in the area have been mined, so the authorities are compelled to deny requests from Red Cross officials to start handing out humanitarian aid. TASS
Notice the word terrorists to describe the rebels? Notice that rebel fighters blew up pipeline? Notice that 115 bodies have been found killed by rebels? Noticed why the Red Cross has to wait to enter certain areas of the cities? Did you notice a huge diference in what is happening in Syria?

This is not about what to believe because there are two sides to everything. This is about a group of terrorists that are backed by the Western governments of the world, specifically America, Britain and France – That are being payed to try to cause a civil war in Syria…
This is about the difference between right and wrong, night and day, black and white or evil and good. The West have become the bad-guys in this Hollywood movie and folks that makes me very sad… 🙁
Kyle
Windows to Russia!
PS: Syria had an advantage over Libya because Russia has a navel port in Syria. That has stopped a whole bunch of American games from happening. Syria is a whole other ball game, but the West will not give up! They are obsessed and fanatics, over world domination…