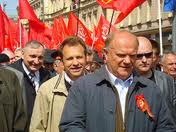 "The Russian Communists say the country's foreign policy needs to change course as a new world order is looming.
­The country's course will be radically changed if the Communists come to power after parliamentary elections in December, the party's leader Gennady Zyuganov has said. The Communist Party (CPRF) will work to disband NATO and establish a full-fledged alliance with Belarus and Kazakhstan.
Russia could revive and remove external threats through a change of power, Zyuganov told the CPRF Central Committee's plenary meeting held at the weekend. The Communists are planning to come to power via peaceful means to "change Russia's fate in the interest of the masses," he stressed. Read More >>>"
I find this an interesting article and from what I see around here in Moscow. The disbanding of NATO would be welcomed by Russians. It makes me wonder will that pull more Russians to look at the Communist party as a viable option again…
Windows to Russia!