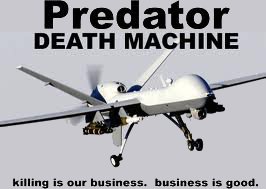 The New York Times says: Pakistan — At least 10 alleged militants were killed on Thursday when an American drone struck a compound in northwestern Pakistan, government officials said… (End of death report and we go into why it is good we do this! Hmm…)
Then I look around a little bit and find: The airstrike targeted a compound in the North Waziristan tribal area, and also damaged a nearby mosque and residences… (RIA in Russia said this!)
Then I found several Pakistan new sources and they are really upset: Local tribesmen said the missiles hit the village mosque where a number of people were offering their Fajr, or morning prayer. They said 10 bodies were pulled from the debris and that efforts were underway to retrieve many others. A Pakistani security official based in the area also said the drone targeted a mosque in Hasukhel and killed many local villagers… (Now that is the same story that NYT printed except NYT put the American twist for the brain-dead masses on it! I have also seen a few Main Stream recently pick this up from the news wire, but they are keeping this item on the back page!)
So the real story for those who care at all is:
Pakistan – At least 10 people, maybe more, killed in a illegal drone strike by the USA. Actually the second strike this week. The drone fired missiles at a residential area and a mosque during the prayer session. The US is claiming that it was possible that the 10 killed were militants, but the US does not have any proof and calls them "alleged militants…"

The North Wazirstan a tribal area went under attack today as drones from an invasion by the US, killed innocent people in what could only be described as an act of war, after Pakistan has asked numerous times for the US to cease and desist on killer her people in these barbaric acts…
Recover operations are under way as they excavate the residential section and the mosque in an attempt to save as many people as they can. According to a Pakistan Security Official another mosque was also targeted in Hasukhel and many civilians were killed in that illegal operation as well. Doctors at the Mir Ali hospital said six wounded had been brought in. Among those wounded, one died and four others were in critical condition…
It is being asked by the Pakistani people as to why and what makes it fair that we are killed as we sleep, work, play and pray in our everyday lives? What did we do to the USA people?
by Kyle Keeton
Windows to Russia!