Yes Russia has a Fairy Tale Cake and it is very rich and moist. It only seems natural that Russians would have a cake like this. They are very much into fairy tales and stories equivalent to that…
So lets make a Fairy Tale Cake and enjoy a little Russian tradition
Ingredients for cake:
10 eggs
1 cup sugar
1 cup all-purpose flour
1 teaspoon real vanilla extract
Ingredients for Icing:
3 sticks of real butter at room temperature
1/2 cup sugar
4 egg yolks (I take these yokes from the 10 eggs in the cake!)
1 cup milk
1 Tbsp. Orange Liqueur
1 Tbsp. lime Liqueur
1 Tbsp. cherry Liqueur
1 Hersey's Milk Chocolate Bar (Melted)
Ingredients for Syrup:
3/4 cup water
1/2 Tbsp. Orange Liqueur
1/2 Tbsp. lime Liqueur
1/2 Tbsp. cherry Liqueur
1/4 cup sugar
How To Make The Cake:
Preheat the oven to 350 degrees F. (180 C.)
On high speed beat the eggs with the sugar for 6-7 minutes. Blend by hand, not a mixer, the flour and the vanilla extract, so the batter stays fluffy…
Pam spray a baking dish (I used 13 in by 9 in) with cooking spray. Transfer the batter into the baking dish and bake for 25-30 minutes…
Check if the cake is ready with a tooth pick, if nothing sticks to it, it is done…
Directions for Icing:
In a saucepan mix egg yolks, milk and sugar- on low heat bring to a boil. Simmer for 5 minutes, mix frequently. Turn off the heat and let it cool completely…
On medium to high speed beat the butter with liqueur. It will expand with air insertion. Slowly pour in the cooled egg mixture, beat for another 2 minutes…
Directions for syrup:
Mix water with sugar and the Liqueur until all sugar dissolves…
Ignore Chocolate Bar until later…
Create The Cake:
Cut the cake in 3 equal layers.
Wipe all 3 layers evenly with syrup. Allow syrup to soak in and wipe with syrup until all gone. I usually wipe them once and then pour the extra on top the whole cake and let it sink in…
Place one cake layer on a flat dish spread 1/4 of a icing on cake layer…
Then take another cake layer and place it on top of the iced layer cake. Repeat this for the third layer…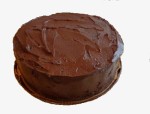 For rest of the icing add a Hersey's Chocolate bar melted and mix it well, apply that icing to the top and sides of the cake. It is a chocolate covered cake…
Refrigerate this cake and it will form a hard shell from the Hersey's bar. I use a Hersey bar because they are so popular in America. Russians have a thousand better chocolates and anything to suit you can be used. I also like to use the ice cream hard shell chocolate coating…
While many Russians like to decorate their cakes to look very fancy. I just like mine plain. The cake is so rich and wonderful that you need nothing else to present it. Besides once they taste it and those mingled flavors of Liqueur hit the taste buds…
Well the cake disappears very fast…
Post by Kyle Keeton
Windows to Russia…