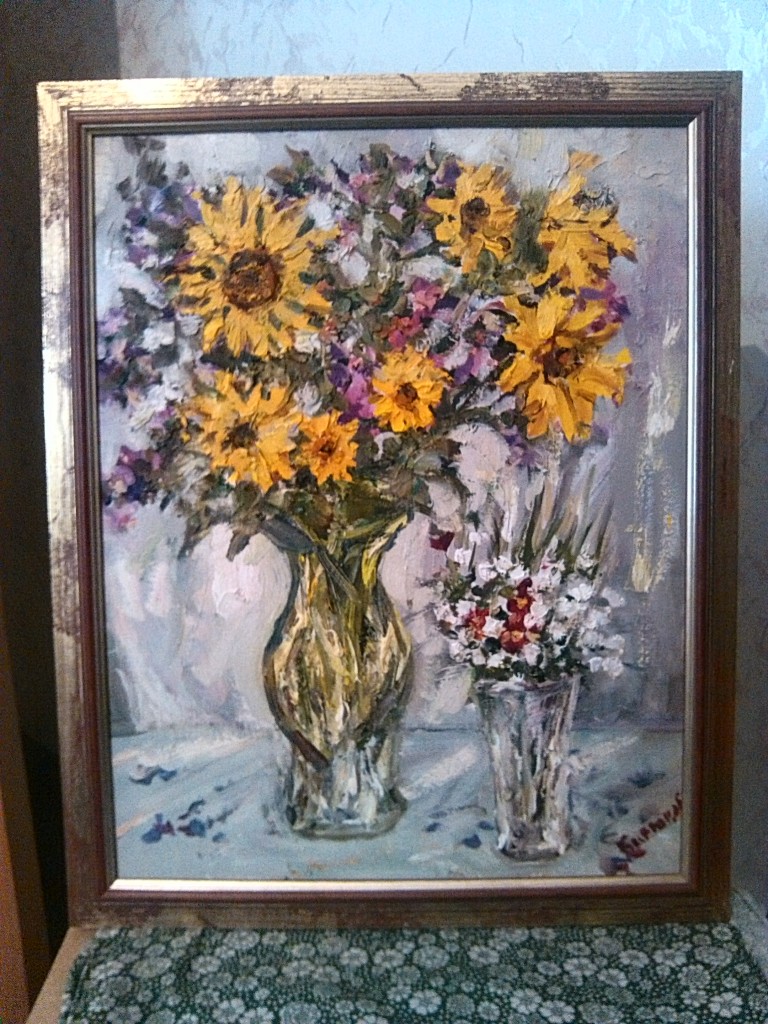 Hello,
This morning with that wonderful cup of Russian coffee, comes thinking's and realizations. These are not the final thoughts on Windows to Russia but they are the change of many thoughts that I have. Windows to Russia has reached its limits and really has no place in my mind and heart any more…
The picture that you see to the right is a painting that was given to Sveta and I very recently. It is from a doctor that has tried to help me in diagnosing what could be wrong with me. This is one of the few male doctors that we know and for some reason he painted a picture and gave it to us. I was taken back by it and actually had a tear in my eye, it was so perfect of a gift that I was stunned. After doing some thinking's I realized what it is about Russia that is so special…
So I will get to why Russia is special in a minute…
When I started Windows to Russia it was to change one persons (American's) attitude about Russia at a time. I felt that if I succeeded at that, then I was doing something good and something right. I no longer feel that way, so let me tell you what is happening…
It is simple: I after almost 6 years realize that I no longer am just American. I no longer want you to come to Russia. I no longer care to try to change your mind. In fact the worse thing that I can think of is for an American to come to Russia! Russia does not deserve it and neither do you deserve to see what is a wonderful and vibrant country that is alive with freedom's that you only read about now in old history books. America has started the down hill run and has got a whole lot of self centered pig headed people trying to steer the wheel…
When I speak about you not coming to Russia, that means Americans in my eyes. I want the rest of the world and their better attitude to come to Russia. America is not the biggest readers of Windows to Russia any more and that is how I want to keep it. I am blocking huge sections of American IP's because of so much hate and governmental attacks against the site. It is sad and really a very sick issue. America is closing the gates on you people living inside and really, most of you could careless…
So why is Russia special?
That is a good question and you really have to live here to understand. Most who live here from America, love Russia and to live in Russia and be happy you must love her. The number of us as Americans is not very large, but I see quality in the happy ones. The ones who do not love Russia, do not make it very long and run home crying or they spend their time writing bad things about Russia and telling lies about Russia. Those are the ones that really need to leave Russia and don't let the door hit you in the ass as you leave. Western journalist and NGO's fall into this category…
I hear constantly: Russia does not smile and Russia looks sad and Russia is depressed and Russia is repressed and Russia is this and Russia is that and so on and so on and so on…
Bull Crap!
Russia has a real, not a pretend existence on this earth. The people really mean it when they smile at you! The people really mean it when they communicate with you! The people are real not fake. Russians do not run around and say cheese as you take a picture. Russians do not tell themselves everyday to smile and put on a happy face…
When Russian does something it is because he or she wants to do it and it is from their hearts. They expect nothing in return and that makes Russia very very special…
Russia is real and not fake and that is truly important in life…
The painting that we received finalized my thoughts last night and the decision has been made that I will put Windows to Russia as she is to rest! Windows to Russia will continue to post many articles and as you see we have articles from many writers now. I will continue to write an occasional article and most likely will post recipes as I find them…
I have many projects and Windows to Russia is consuming too much time and energy for very little return. It pays for itself and that is it. People do not want to support a website that talks good about Russia! If this site was a hate Russia blog then I would have huge support for continuing this site. That is a sick and degrading thing to think of. For I love Russia as see is, very very much. Why would I hate Russia! Money is not that important, that I have to pretend hate to make it…
I have lots of irons in the fire as I just mentioned and one of those irons is to obtain a second citizenship. I see the writing on the wall and one day soon America is going to start squeezing the borders closed. The brain drain and talent drain is reaching a epidemic proportion, as people leave America for countries that allow you to be you and not what the government says you should be. No – this is covered up and you will only see this happening, if you leave America. Russia has the problem also but it is not the same and Russia acknowledges it, whereas America pretends that it does not happen… (Just ask anyone in America!)
I can't accept America as I see her now in the world. I can't accept a America that uses swat teams as a regular part of law enforcement. I can't accept such a scared America at her own shadow. I can't accept a America that controls the media to the extent it does. I can't accept a America that is showing such a high level of corruption in government, elections and all over the world. I can't accept a hypocritical America that says one thing, preaches one thing, demands one thing and then tuns around and does the opposite…
I can't accept a America that my vote does not matter or count, because the outcome is already planned. Maybe America has always been this way but once you leave the American borders and look around, you will one day see the truth…
I could go on and on and on! But the simple fact is that I don't want you (America) here in Russia! I like Russia as it is and the total impact of that hit me as I look at the painting in the picture. It stimulated all of this verbal barrage that I just wrote. I am now looking away from 90% of the main stream news and that includes Eastern main stream news also. If I write here again then it will be what I am doing or think about the stupid and sick world we live in. The writers that have graced the pages will have their articles posted as soon as I receive them and I think that their writings make Windows to Russia what it is today…
The painting is Russia and her soul and that is what I believe! That is what counts and that is what I say! I really do not care what you think or say it is. I see what has been, what is and what can be in this painting and in my world it is without a hateful, deceitful, contriving and conniving America! Until "we the people" stand up and grow up and take our country back from the scum government that runs it. Then you are just as bad as the government for allowing it…
You know how I think and you see what the government does to shut me down. That should make you think! But then I really don't think you are capable of thinking and until you decide to comprehend what is happening to your existence…
Don't come to Russia, because Russia is a wonderful place. That is why I love Russia…
Kyle Keeton
Windows to Russia!