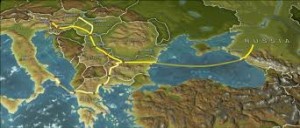 Remember when Ukraine was stealing gas? Remember when Ukraine refused to deliver gas to Europe? Remember when Ukraine would not pay their gas bills? Remember when Ukraine… (You get my point!)
Well Ukraine seems to have come to the realization that South Stream is a true reality and that it will cut Ukraine's throat in the Gas supplier business. They should have thought about that before they played games in the past. We have a saying, "The past will rear up and bite you on the butt…"
KIEV, June 11 (Itar-Tass) —— Ukraine hopes to persuade Russia to invest in the modernization of the Ukrainian gas transport system, and not in the South Stream pipeline project. As Prime Minister Nikolai Azarov said on the first national television channel on Friday, "there is nothing more reliable for Russian gas supplies to Europe than our pipeline system."
Now that last statement will make you laugh. After the years of unreliability they can say that statement with a straight face?
I realize that Ukraine had a pathetic president (Viktor Yushchenko) at one time in the past and a prime minister (Yulia Tymoshenko) that stole all the gas and money in the country, but when you have proven yourself to be extremely unreliable as a gas delivery country. Then no one trusts you…
It is hard for a business like Gazprom to accept Ukraine's word that all is good when they lost billions of dollars in gas for years in a row…
Ukraine needs to understand that when the West instigated political games and had her puppets in place in Ukraine. That the results will always be detrimental to Ukraine's future and present…
Russia has always wanted to trust Ukraine but…
Windows to Russia!