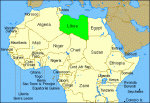 The United Nations Security Council (UNSC) has voted on a resolution authorising a no-fly zone over Libya and "all necessary measures" – code for military action – to protect citizens.
Ten of the council's 15 members voted in favour of the resolution, with Russia, China and Germany among the five that abstained.
No votes were recorded against the resolution, which was co-sponsored by France, Britain, Lebanon and the United States.
In Benghazi, the main rebel stronghold, a large crowd watching the vote on an outdoor TV projection burst into celebration as green and red fireworks filled the air, as broadcast live on the Al-Jazeera satellite TV channel.
The resolution fulfills a long-standing demand from pro-democracy opposition forces in Libya asking for a no-fly zone to be established in order to prevent Muammar Gaddafi, the Libyan leader, from using fighter jets to bombard their positions, as they have been doing.
It comes just a few hours after Gaddafi warned residents of Benghazi, an opposition stronghold, that his forces would show "no mercy" in an impending assault on the city.
Speaking to Al Jazeera, Alain Juppe, the French foreign minister, said there was not much time left for the international community to act.
"France is very much involved in this action and has prepared the draft resolution. We have one goal… we want to stop the attacks by the Gaddafi regime against civilian populations.
"And it's a question of days or hours because the pressure against Benghazi, especially, is now very tough."
The Libyan defence ministry on Thursday, before the vote, warned that any military intervention in Libya would endanger air and sea traffic in the Mediterranean Sea.
In a statement released by the state-run Jana news agency, the ministry said that both civilian and military targets in the Mediterranean will be attacked.
Windows to Russia!