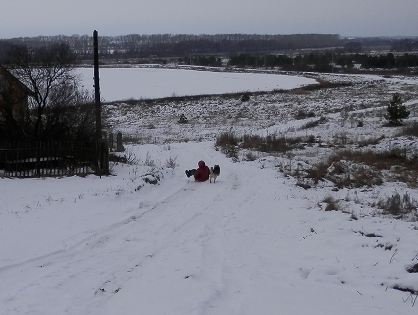 Today I plan on getting pictures taken as Sveta slides down our huge hill by our village home, on a round plastic sled with two handles to hold on for dear life. Sveta wanted to sled and we bought her a disc at the Globus in Moscow. What a ride this disc is…
I help Sveta get on the disc and then push her to get her going and at that point gravity takes over and after about 10 meters of smooth sailing, the disc starts to spin and whips back and forth in the ruts that the tires have left by our car and Sveta, plus a barking crazy Boza, disappear two hundred meters to the valley floor.
Boza is trying to get Sveta to stop, for it seems to upset him that his nice momma is doing crazy things and he tries to pull on her coat to stop her, but he just ends up being dragged to the bottom with her and I am laughing so hard all the time watching. Sveta is hollering a the dog to stop, the dog is barking at Sveta to get off that deadly thing and quit acting like a fool and I fell on the ground in a fit of laughter, from pushing too hard.
The last run of five runs yesterday, found me watching Sveta hit the field in the bottoms and roll upside down, feet straight up in the air, a barking dog, leaping as high as he can to avoid flailing legs from Sveta. I could not stop laughing. Though I found later that I had skinned my knees… 😉
I went down and found a smiling red faced girl and a grouchy barking Boza.
That is Heaven people and the Tiny Russian Village is such a heaven.
I will try to get pictures today… 🙂 (Maybe of an upside down Sveta!)
Kyle Keeton
Windows to Russia (WtR)