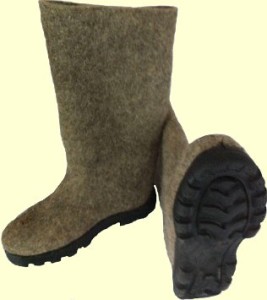 Yesterday while Sveta and I were shopping, we found a rare treat for me. We found  the famous Russian boot called valenki and it was in my size. The valenki is found everywhere, but in my size is rare and with a rubber sole for walking outside, even more rare. I now have my winter boots for the village. The warmest boot you will ever find and made of 100% wool (boots called valenki,) mine have rubber soles, but most valenki are made to slip into galoshes.
These are the most effective companions in an icy winter. With pure wool boots you'll not be cold footed and able to endure cold all the way down to -80 ° C. That is serious cold and they are able to do this because they are from 100% natural sheep wool and ancient craft techniques are used. The valenki is made by hand.
Russians all know from earlier times, that the usage of wool products, improves blood circulation, helps with joint issues and provides protection against the cold, yet easy on overheating at the same time.
Russians believe that uncolored, natural, rough wool is characterized by the best healing power. Since wool felt is extremely waterproof, it will the perfect boot for snow activities. Not for nothing are these wool boots worn in Russia for hundreds of years and have tested themselves millions of times!
Valenki is Russia at its best and now I have a real pair of boots or as Russian say valenki…
Lidia Ruslanova Valenki Best Russian music Лидия Русланова Валенки – below…
The belief is; a bad person is simply not capable of making a good valenki…
Have a nice day…
Posted by Kyle Keeton
Windows to Russia…