Veal Orloff:
Veal Prince Orloff, veal Prince Orlov, veal Orloff, or veal Orlov is a 19th-century dish of Russian cuisine, which was created by the French chef Urbain Dubois in the employ of Prince Orloff, former Russian ambassador to France. Wikipedia

So while French made, Russian loved…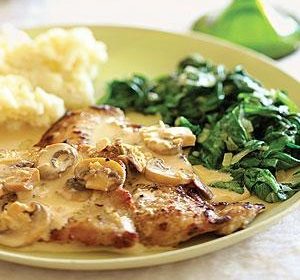 This is a easy recipe of the French classic; a roasted veal; it is a rich and a delicious dish. Serve with plain vegetables such as boiled rice or potatoes and or even noodles…
Ingredients:
1 1/2 kilo (3 lb) piece boneless veal
Vegetable oil for frying
Salt and black pepper
2 onions, peeled
3 carrots, peeled and sliced
175 g (6 oz) canned mushrooms
For the cheese sauce:
25 g (1 oz) butter
40 g (1 1/2 oz) flour
150 ml (1/4 pint) hot milk
75 g (3 oz) Cheddar cheese
1. Tie the veal with string to ensure that it keeps its shape during cooking…
2. Heat 2 spoons of oil in a skillet, extra hot temp to sear with. Add the veal and brown quickly on all sides over high heat. Season to taste with salt and pepper and pull from the heat…
3. Put meat into a casserole oven dish, cut one onion into quarters and add to the casserole and add the carrots, and enough water to cover the bottom of the pot. Cover with a lid and transfer to a fairly hot oven (200°C/400°F)…
4. Cook for 25 minutes, then lower heat to a moderate (180°C/350°F) and continue braising for 1 1/2 hours or until the juices of the meat run clear when the meat is pierced with a skewer…
5. Take the meat from the casserole dish and keep hot…
6. Meanwhile, melt some butter in a small pan. Chop the remaining onion very finely and add to the pan. Fry for 5 minutes or until golden. Add the mushrooms (if canned drain well first) and cook for 2 to 3 minutes more. Season to taste, set aside and keep warm…
7. To prepare cheese sauce, melt the butter in a pan. Stir in the flour and cook for 1 to 2 minutes, stirring constantly…
8. Remove the pan from the heat and gradually add the milk, stirring vigorously. When all the milk is incorporated, return the pan to the heat and bring slowly to the boil, stirring constantly…
9. Lower the heat. Season to taste and add 3 oz of the grated cheese. Cook for a further 2 minutes or until the cheese melts into the sauce…
10. Cut the veal into four pieces, remove the string if used, as necessary. Divide the mushroom mixture equally between the plates and reshape the veal on each plate. Pour over the hot cheese sauce over everything on the plates and sprinkle with the remaining 25 g (1 oz) grated cheese…
11. Eat before it gets too cool… Yummy!
WtR