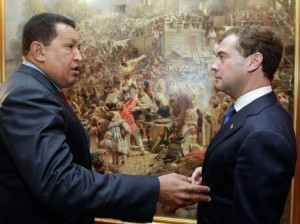 Russia and Venezuela this Friday (10/15/2010) have agreed to build Venezuela's first nuclear power station! This was after talks  between Presidents Dmitry Medvedev and Hugo Chavez in the Kremlin were concluded for the day…
Then after Medvedev and Hugo agreed on details the Russian nuclear agency chief, Sergei Kiriyenko and Venezuelan Foreign Minister, Nicolas Maduro each signed a proposal on "The construction and use of an atomic power station on the territory of Venezuela" …
Medvedev hinted that Venezuela's adversary, the USA, might not like the deal, but Medvedev made it clear that it was a peaceful situation.
"A deal in the atomic sphere has just been signed. I already know that it will make someone shudder. The president (of Venezuela) told me that there will states who will have different types of emotions about this." Medvedev said.
"I would like to underline that our intentions are clean and open: we want our partner the Bolivarian Republic of Venezuela to have the full range of energy choices, to have energy independence," Medvedev said.
The Western Press has gone plum crazy
Hummm says the little birdie 🙂
Looks like a game of chess to me…
Windows to Russia!