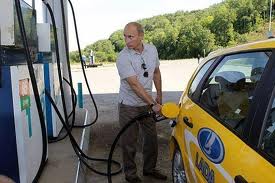 Oh one thing that I really think you need to think about. Here is a huge difference between Russia and America on safety. I have  told you many times that traveling and walking around Russia is much much safer than doing the same in America…
If you remember that Putin traveled and drove many of the kilometers himself all over Russia. He drove not in a bullet proof armored car but a regular LADA that he was given to test drive. It was nothing special and not altered in anyway for his trip. Putin drove 1300 miles at least that trip and did it in a regular car. The trip was not a secrete that came out after the fact. Contrary it was a trip that was planned and was mediated constantly from beginning to end. We all knew what he did and where he would be the next day and nothing was hidden…
Could you imagine Obama driving 1300 miles across America in a car that was not armored and bullet proof? Much less a car equivalent to a LADA. Or could you imagine Obama driving the car at all? Could you imagine Obama filling the gas tank and paying for the gas himself? Could you imagine Obama on a vacation and we all knew every step of the way what he did and it was in a normal car? Not in America, I cant imagine that happening with the president of America. Maybe in the old days, you know, the wild west days when they traveled by train and talked to the people as they ran for president and such. You know those wild west days that were very unsafe, but it seems to me now that they were safer than the modern age…
Above: Obama Bus to travel America...

In fact Obama travels in the "Beast" most of the time on the ground and also now he has a bus: If the Obama Bus is similar to The Beast, it will have tank-like armor and cutting edge technology. For example, The Beast has 8-inch thick armor-plated sides, special bulletproof glass, and Kevlar-reinforced tires. The tires are mounted on specially designed rims that can continue to drive even if the tires are missing. Like The Beast, the bus is probably airtight, and likely has an advanced fire suppression system, oxygen tanks, and is built to withstand a chemical attack. In case of a medical emergency, bags of Obama's blood are likely carried on-board just as they are in The Beast.
From what I understand is that they even take the "Beast" along with the bus in case an issue comes up that the bus is disabled…
I have thought about the difference in the two countries and this really makes me wonder what has happened to America. Is it that terrible that we have to guard our president with such means and measures? Is it that bad that we have to guard against chemical attacks and 8inch armor against what? Missiles!
The day that our president can not take a trip across the country with out fearing for his life tells me that something is incorrect and has gone haywire in America. But that is just me and you all know that I am just a blogger who has a screw loose…
Yes Putin has body guards and yes they make sure all is cool before he does certain things. That is normal and expected for the president of any country in the world…
What is not normal is when even the president of a country can not travel as a human and fill his own gas tank. What is not normal is that America is a land where we have to fear so bad that we build vehicles that are like a tank to transport our president around the country to meet his people that he works for…
I see Putin and Medvedev all the time in Russian media and life and they enjoy freedoms just like I do. They drive their own cars when they feel like it and they do not cower behind inches of high tech steel armor at the fear of their own people as they move about Russia…
That should make you think as you bad mouth Russia all the time. Russia is a lot safer than you understand and America is a lot less safe than you know…
I understand that you may not want to get the point that I am making and you want to tell me that apples and oranges are not the same as apples to apples. Well in my mind this is apples to apples and if Putin can traipse around Russia with very little fear, surely Obama could also traipse around America with very little fear! Or can he?
Oh yes! Maybe Russia has a bad area that Putin would not want to go! Maybe the Russia's North Caucasus region, but Sveta and I have been there and I really think he would do just fine. Admittedly I am not in power in Russia so I am not a target, but it was a fantastic region and the people were simply sweet and wonderful. So it seems that other than a few factions that cause issues, the area is safe…
But with the armored vehicles that our American president has to travel in, to transverse the American countryside, you would think that all of America is like Russia's North Caucasus region…
Makes you think…
Kyle Keeton
Windows to Russia!
PS: I remember that Putin said that the LADA was a great car and he would buy one. In fact he has personally bought a LADA Niva a 4X4…