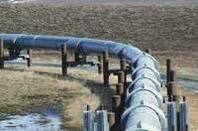 China needs the gas and Russia needs to sell it. Russia is looking at a huge gas contract (I mean huge!) with China and may sign a gas contract during China's President Hu Jintao's visit to Moscow.
The issue of gas supplies to China is part of the talks between Dmitry Medvedev and Hu Jintao. This is almost a done deal and it looks like the big boys will discuss the end arrangements of the gas contract…
China looks at this deal as a guaranteed gas supply that is badly needed by China and Russia looks at it as a buffer to the European gas supply issues / idiosyncrasies that haunt Russia all the time…
The fact is that China wants any and all gas that Russia can send her way. This fact is obscured in the main press and no one pays attention to this deal that is going on. Once Russia and China come to terms on a contract for gas. It changes the balance of influence in the gas world…
Windows to Russia!