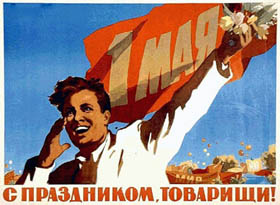 Sveta and I have been so busy moving Windows to Russia that we almost forgot about the holiday season in Russia. Yes we have another holiday and everyone is off today. Monday, May 1st 2012. The holiday extends in part to the 9th of May, 2012 and that day hosts the Victory Day of the Great Patriotic War Parade…
So we have taken advantage of the time and finished moving Windows to Russia out of USA constrictions:
| | |
| --- | --- |
| Current Registrar: | REGIONAL NETWORK INFORMATION CENTER, JSC DBA RU-CENTER |
| IP Address: | 93.95.225.253 (ARIN & RIPE IP search) |
| Lock Status: | clientTransferProhibited |
% By submitting a query to RU-CENTER's Whois Service
% you agree to abide by the following terms of use:
% http://www.nic.ru/about/servpol.html (in Russian)
% http://www.nic.ru/about/en/servpol.html (in English).

Domain name:             WINDOWSTORUSSIA.COM
Name Server:             ns0.1984.is
Name Server:             ns1.1984.is
Name Server:             ns2.1984.is
Creation Date:           2008.07.31
Updated Date:            2012.05.01
Expiration Date:         2014.07.31

Status:                  DELEGATED

Registrant ID:           68MUQAC-RU
Registrant Name:         Keeton Kyle
Registrant Organization: Keeton Kyle
Registrant Street1:      30-2-324, Kronshtadtsky bul.
Registrant City:         Moscow
Registrant State:        Moscow
Registrant Postal Code:  125499
Registrant Country:      US

Administrative, Technical Contact
Contact ID:              68MUQAC-RU
Contact Name:            Keeton Kyle
Contact Organization:    Keeton Kyle
Contact Street1:         30-2-324, Kronshtadtsky bul.
Contact City:            Moscow
Contact State:           Moscow
Contact Postal Code:     125499
Contact Country:         US
Contact Phone:           +79031299359
Contact E-mail:          peppy200@gmail.com

Registrar:               Regional Network Information Center, JSC dba RU-CENTER

Last updated on 2012.05.01 15:53:28 MSK/MSD
This is all public record, but I decided to show you that we have succeeded in finally breaking the ties. It was not easy and some steps took three months to accomplish because we messed up as we were doing them. Once a mess up happened we had to wait patiently for three months before we could redo the step we messed up. Then we were blocked intentionally by certain issues that were intended to hurt us if we had not been in the process of moving data and data centers…
Iceland hosting and name servers, Russian registrar and we even got an extra year added to our domain expiration…
Cool Huh?
No more GoDaddy shutdowns of the IP, because of unfounded e-mails from the government of the USA. No more shutdown IP, because of e-mails that alleged that Windows to Russia did something…
That word alleged is really popular in America and it definitely overrides the truth in America. Alleged will get you put away for life in America and even killed…
So actually the May holidays are wonderful here in Russia. Windows to Russia is now registered in Russia… 🙂
Kyle Keeton
Windows to Russia!