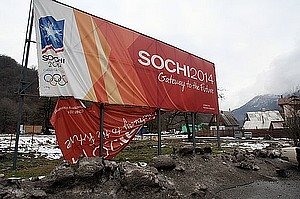 This is a Russian Disgrace, Putin needs to be following his Olympic issues very closely! We have been to this little area and drove through this wonderful little Old Village. It is very quaint, the scenery is beautiful from this village and the homes are not fancy. It looks like a old village that has lost its original shine. Just like many Russian villages.
Residents of Imeret lowland that had been chosen to construct facilities for Sochi 2014 Olympics clashed with bailiffs and police yesterday, July 22, 2008. Armed with sticks and bottles of incendiary mixture, 200 locals were defending their houses.
Accompanied by bailiffs, the land surveyors attempted past morning to enter a dwelling at Nizhni Imeret Street. The traffic police blocked the road and the bailiffs showed to hostess Svetlana Droficheva a writ of execution spelling out the ban on opposing their cadastral activities.
The news that authorities set eviction into motion spread amid the neighbors in no time. Some 200 barricaded themselves inside the house, the remaining stood on the defense in the street.
Chief of Adler authorities Evgeny Piven showed up at around 11:00 a.m. to confirm that the bailiffs really have the writ and the owners are to admit them to the house for cadastral work. "Over our dead bodies," the locals rebuffed.
Meanwhile, the police and the bailiffs set to assaulting the gates. The locals didn't retreat and police used pepper gas against them. A woman felt sick and an ambulance was called to help her, but the locals didn't yield that time.
Officers of Russia's riot police, OMON, were summoned to break down the resistance of people, whose houses are within the construction site of Sochi Olympics. Luckily the conflict didn't escalate into a war. The tension was eased by police acting chief Yuri Starshikov. He approved of "my house is my castle" standing of residents and said they have ten days to appeal the writ. (Link)
One thing that is worth fighting for is your home. The statement "My home is my castle" is appropriate!
This bottom line is: The Olympics are not worth lives, sorrow, stress, destruction & taking homes. I hope the residents win!
Kyle & Svet
comments always welcome.
---
I was drinking my morning cup of coffee here in Moscow, Russia and looking at a video about a press release that Medvedev did.
In a surprise move: Dmitry Medvedev discussed Democracy and the Khodorkovsky case in an interview with Novaya Gazeta, which is known for its critical stance towards the Kremlin…
Everyday Medvedev shows what he is about and when he does things like this he shows that he is trying to change the older ways of Russia!
According to the President's press service: "This will not be the last interview with Russia's printed press. This is to become normal and a regular feature of Dmitry Medvedev's time in office."
Windows to Russia!
Kyle and Svet
comments always welcome.
---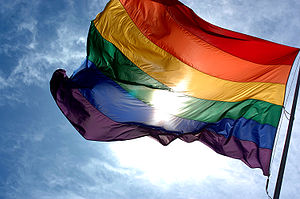 Rainbow Flag…
For the first time in the Moscow's history, the authorities are allowing the members of Russia's gay community to stage a protest…
Scarcely has the former Moscow Mayor Yury left his workplace when the city he shaped for almost two full decades made a change that was contradictory to the norm…
The quiet murmurer of disapproval has increased and the fingers are being pointed at a Medvedev. Stating that he should have seen this coming…
Russia still has a "Wild West" flare about her and that is part of the attraction Russia holds for me. But this flare could cause issues from certain groups that vehemently express the desire of being anti gay…
I hear the murmurs stirring amongst the breezes and they are not conductive to pleasantness…
Could this move be too soon after the demise of a popular mayor?
Windows to Russia!
---
Russian Video Blog
|
Russian Photo Blog
|
Fresh Bribery News
|
Russian Stories
|
Do You Wanna Know?
|
Zombie Source Code
|
Blogger'a на Blogspot'e
|
English 4 kids
|
Как похудела Света...
|
Zombie Gossip Tales
|
Света на WordPress'е
|
WritesHere.Com
|
Cell Phone of the Day