When I grew up my grandma would make these wonderful burgers. They were so good and my favorite color of purple, that I would eat three or more if allowed. This meat burger was wonderful and there always seemed to be lots of extra patties when these big purple meat patties were served. Later in life I found out that grandma used garden beets to make a fake meat, so that a kid like me would eat and eat and eat…
Therefore, while this might seem like a new fangled way to eat healthy, but beet patties are a very old Russian treat. This make sense, because beets grow plentiful here in Russia and actually it is nice to eat a patty burger, even if it is not real meat. Russians actually do not make a sandwich from them, for they eat cutlets instead…
I am sitting here in the Russian Village and wishing I had some beets to make this delight, but you can make it them right now. Gather the ingredients, put them together and feed your family on the cheap today…
Purple Burgers: Beet Burgers from Russia…
Ingredients:
1 kilo fresh beets, cooked and peeled (I grind the beets!)
1 cup oatmeal
1 onion *** (chopped and not included in the Russian version. Use onion in Kyle version!)
3 large eggs, lightly beaten
1 cup bread crumbs (black or white – I like lots of bread in mine so I vote for two cups)
fresh grasses such as parsley, dill of such… (Use what you desire)
vegetable oil for skillet
salt, pepper and garlic powder or fresh to taste
Lets make:
1. While the beets are still hot, shred them or grind them in a hand grinder as I do. Then transfer to a deep skillet with a small amount of cooking oil..
2. Cook, covered, for approximately 10 minutes. Then uncover and add the oatmeal, stirring constantly…
3. Cover again and cook, stirring occasionally, until the mixture thickens. Remove from heat and cool to a temperature at which the egg would not cook…
4. Add the eggs, season with salt and pepper and garlic and add grasses if desired, then mix well…
(4 1/2. I add breadcrumbs and a chopped onion to the mix and mix them internally…) But…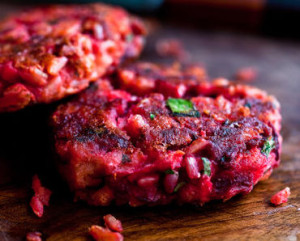 Now I do not follow the Russian way at this point…
5. Russians make cutlets: Shape oval patties, approximately 3/4 inch thick, roll in crumbled bread crumbs, and fry in vegetable oil, about 4 minutes per side. Serve with sour cream or horseradish sauce… (Oh so YUMMY and perfect…) But…
6. Kyle's makes hamburger patties: I mix the bread into the beet cooked mix and then after it cools enough to handle the product, I make hamburger style patties from the mixture. Then fry them in a non-stick skillet. Just like you would a beef patty in your own kitchen…
These then are used to make the most wonderful Beetburger patties sandwiches that I have ever found. Bread ketchup, mustard, lettuce, tomato,thick slice of raw onion, cheese and whatever you desire. Then put bread on top and if it is too thick to get your mouth opened enough to eat, then you succeeded…
Post by Kyle Keeton
Windows to Russia…