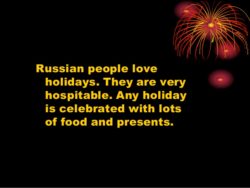 How about some common Russian New Year / Christmas recipes that are easy to do and quick. Russians have lots of tasty things to eat this time of the year. It is holiday time you know! These recipes will make even your Christmas / New Year holidays a better, yummy time. Russia has her Christmas like time at New Years, but I thought I would post these recipes early enough to allow the West to make a few Russian treats for Christmas…
---
Baked Tomatoes With Cheese:
Description: Delicious light appetizer is right to the holiday table. Cheese with tomatoes and mushrooms will be to everyone's liking…
Method: Slice tomatoes and arrange on the baking pan evenly, season to taste with salt and pepper, cover with chopped mushrooms and top with grated cheese. Put in a preheated oven (med.) and bake until cheese is melted…
Ingredients: 4 ea large fresh tomatoes; 300 g cheese; 1 can stem and pieces mushrooms…
Vitamins Salad:
Description: The name of the salad speaks itself – rich with vitamins, it is a must in wintertime on your table. Such a salad will decorate any holiday table and serve a wonderful appetizer…
Method: Cube lemon with the peel in small cubes. Grate turnip, carrots and apple finely. Combine all the ingredients and add sugar to taste…
Ingredients: 2 ea big carrots; 1 ea apple; 1 ea lemon; 1 small turnip, sugar to taste…
Salad Olivier:
Description: This salad is the creation of a French chef, M. Olivier, who in the 1860s opened a fashionable restaurant in Moscow called The Hermitage. The present-day version has veered quite far from the original, but Salad Olivier continues to be a favorite hors d'oeuvre and side dish for entrées…
Method: Serves 8-10 as an appetizer or 6 as an entrée. Cut the cooked chicken and potatoes into 1/2-inch cubes. Peel the cucumbers and also cut into 1/2-inch cubes. In a large bowl, combine the meat, potatoes, cucumbers, green peas, and onion. Add the mayonnaise and mix gently, so those ingredients are not mashed. Refrigerate the salad until serving time (but for no longer than 4 hours)…
Variation: Vegetable Salad Olivier: Omit the chicken or veal to make a delicious meatless side dish…
Ingredients: 1 whole chicken breast, poached, boned, and skinned, or 1/2 pound lean cooked veal; 1 pound all-purpose potatoes, boiled in their skins and peeled; 2 medium Cucumbers in Brine; 1 cup cooked fresh or frozen peas; 1 medium onion, finely chopped; 1 cup Mayonnaise; 2 hard-boiled eggs, peeled and quartered; 8 large black Greek olives; 8 sprigs parsley…
Corn Salad:
Description: Corn salad has become very popular for last years. It is very easy to make, will bring pleasure to you and your kids as well…
Method: Shred cabbage very thin and grate a carrot. Chop crab sticks (crab meat). Add corn and salt. Stir mayonnaise into the salad. Mix the salad and refrigerate for a while…
Ingredients: 250 g canned sweet corn; 250 g crab sticks or crab meat; 1 ea large carrot; 200 g cabbage; 200 g mayonnaise; salt…
Cod Liver Salad:
Description: Try this delicious, quick and easy recipe for your next party! Cod liver is rich in vitamins and perfect for dietary cooking. Serves 6-8…
Method: Place the cod liver in a colander and let the oil drain off. Mash the liver with a fork and combine with the chopped eggs and onion in a serving bowl. Add salt to taste and decorate with parsley sprigs and olive halves. Serve with bread….
Ingredients: 190 gram can cod liver in oil; 3 hard-cooked eggs, peeled and chopped; 1/2 medium onion, finely chopped; Salt to taste; Parsley sprigs; Black oil-cured Greek olives, halved…
Sandwiches With Red Caviar:
Description: Sandwiches are a perfect food; they are great for breakfast, lunch and dinner. Sandwich must be made in a beautiful way to attract the attention and water the mouth. Ingredients are given for 10 portions…
Method: Slice bread finely. Cut out crusts from bread. Put a small hump of caviar and a decorated piece of butter on a bread slice. Decorate with greens…
Ingredients: 150 g red caviar; 20 g butter; 300 g bread; greens…
Christmas Duck:
Description: Unique taste of Christmas you will find only in this dish! Unusual marinade makes the dish unforgettable for the whole year…
Method: Grease the duck with the marinade and leave for 2 hours. Then put it in a stewing-dish. Don't add any fat, as duck itself contains a lot of it. Cook for 2 hours on average heat until brown color…
Ingredients: 1 ea duck; Marinade: 100 g dewberry jam; 5 ea cloves; salt; ground pepper…
Fish in Aspic:
Description: Fish in Aspic is famous for its high gustatory qualities that gives the right to consider this dish a true dainty…
Method: Wash and clean fish. Cut the head, tail and fins and pour over cold water. Add roots, onion, salt and cook 25-30 minutes, then add sliced fish and cook until done. Take the fish carefully and arrange as the whole one on a dish. Strain fish stock and add soaked in water in advance 15 g gelatin, bring to a boil and strain again. Decorate the fish with carrot slices, parsley green and pour over half stock carefully. Let it to congeal a little and then pour over the rest…
Ingredients: 1 kg fish; 1 ea carrot; 1 ea onion; parsley; 1 ea bay leaf; gelatin; salt…
Mushrooms Stewed in Cream:
Description: Mushrooms Stewed in Cream is a true Russian dish. Almost every Russian loves mushrooms and can't imagine winter table without at least pickled mushrooms…
Method: Wash mushrooms carefully and scald them. Chop finely and fry until light brown. Bring cream to boil. Put mushrooms into a baking pan and pour cream over. Make a bunch from celery and dill and put on the top, add salt, pepper and a bay leaf. Cover tightly and put in a heated oven for an hour to stew. When mushrooms are ready, take the green bunch out…
Ingredients: 500 g fresh mushrooms; 1 c cream; 1 tb butter…
Nut Cookies:
Description: Such cookies are very easy and quick to make. Enjoy the pleasure of cooking with your kids and cut out funny animals…
Method: Combine all the ingredients and knead dough. Roll out a flat cake 2 cm thick. Cut out different figurines with a knife. Bake in a preheated oven 230-250 C until golden…
Ingredients: 300 g butter; 300 g sour cream; 3 ea yolks; a pinch of baking powder; 5 c flour; 2 c chopped nuts; 2 c sugar…
Cake "New Year Clock":
Description: This cake is great just because it is very simple and you don't need to bake anything…
Method: Ground butter with sugar, add yolks, one at a time and melted chocolate. Chop fruit jelly finely, crumble shortbread and sprinkle with cognac and stir thoroughly. 15 minutes later, put the dough on a dish and shape a cake. Leave the cake in a cold place for a night. In the morning on 31 of December cover the cake with whipped whites with sugar and draw a clock with hands…
Ingredients: 250 g butter; 200 g powdered sugar; 3 ea yolks; 100 g melted chocolate; 250 g fruit jelly; 500 g shortbread; 50 g cognac; 3 ea egg whites…
Fruits And Nuts in Cognac:
Description: This drink will be not only a delicious dessert on the holiday table, but also an excellent gift if you pour the cognac in a beautiful bottle…
Method: Put all the ingredients in a glass bottle and pour over cognac. Cover tightly and leave in a dark place for 3 weeks…
Ingredients: 250 g dried figs; 125 g dried dates boneless; 125 g walnuts; a pinch of cinnamon; 1 ts vanilla; 4 ea cardamom seeds; 1/2 ea lemon peel; 50 g sugar; 0,75 l cognac…
Sbiten:
Description: Hot drink made from spices and herbs with honey or sugar. It was purchased in general only in Moscow in crowded places. Sbiten is considered Russian national winter beverage…
Method: Bring water to boil, add honey and jam. 5 minutes after add spices to the water and cook for 5 minutes. Serve hot…
Ingredients: 5 liters water; 800 g berry jam; 200 g honey; 2 g ginger; 2 g cloves; 1 g cinnamon…
---
There that should give you something to keep you busy this holiday. You can find something to tantalize someones taste buds in that array of recipes…
Have a nice holiday from Kyle and Sveta…
WtR