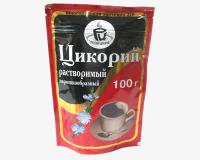 This morning that cup of coffee (chicory) was wonderful and I thought about a billboard that Sveta pointed out while driving around Moscow. It was about chicory and how chicory is the new taste sensation for hot beverages in Russia. I had to smile at that. I guess I am just ahead of the times and the brand I use most often is the photo to the right  >>>>>>
Well Sveta and I made a trip this weekend to Auchan. I have written before about Auchan in Moscow and made it clear that going to any Auchan in Moscow is like going shopping after Thanksgiving in America. But in Moscow it is 365 days a year…
This Saturday was no exception. We fought a couple of hours of traffic to travel 10 km to Auchan from our flat. Then found the parking lot almost full. We finally found a spot that allowed us to at least see the building in the distance and were happy to get that spot…
The first thing you have to do when you get to an Auchan is eat. No – I realize that you ate at home but it has been at least 3 hours since you left home and most likely longer and you have at least 6 to 7 more hours to deal with shopping in Auchan. Unless you just leave after eating, then you still have several hours to get home. Why – you will stand 2 hours in the check out line at times. So running in to Auchan and grabbing one item is out of the question. So just stay and shop and always plan on a whole day trip to Auchan even though you live only 10 km away from it… 🙂
Like McDonald's in Russia is the busiest in the world, so are Auchans some of the busiest in the world. They (Auchan) are a site to behold while shopping. I was able to get a few pictures and I took them because all the xmas stuff is out. Now to be fair it is not xmas here in Russia but New Years. But still I was shocked at the xmas stuff everywhere and it reminded me of America. Skip Thanksgiving and get to xmas in November. Except Russians do not have a Thanksgiving to skip and New Years shopping has definitely not started yet…
That is my sweetie at the lower left corner of the photo above. I was able to get a picture taken when everyone left the vicinity and I snapped a quick photo of the xmas items being set up all over the store…
This next photo is of a swarm (as I call them) of people that are like bees flying to flowers to get pollen…
At one point right after this photo above it got so bad and crowded with shopping carts and people that I started laughing. It looked like shopping cart mayhem and death to anyone that would fall. I can not explain it but Russians drive shopping carts like they drive cars and that is scary. I come home with bruised heels and shins every time, from people running into you with their shopping carts. A babushka is deadly with a shopping cart. By the way as I have said before this is one of the largest stores I have ever seen and it is packed like this from one side to the other. With the exception of minor lulls such as the first photo above…
Sveta and I ate at Auchan, as I said that you must do to survive. So I have to talk about a new place to eat. At least for me and to Sveta also. It is called Quick: Quick is a French chain of hamburger fast food restaurants. It is one of Europe's largest restaurants chains. In recent years, its worldwide expansion has accelerated. Quick is similar in theme to McDonald's. In 2007 it was "nationalized" by the French government through its investment holding company CDC.
This is the first one (Quick) that I have seen anywhere in Russia and it was really good. I can honestly tell you that McDonald's will be in trouble against this company in Russia. The burgers were fantastic and delicious…
As we were eating, it dawned on me that Quick was a French company and Auchan is a French company. It looks like from the information that I was seeing around the store that Quick maybe in a partnership with Auchan or possibly more. So it looks like Quick will be located in all the Auchans in Russia and that will be a lot of stores…
Oh by the way! Wait until New Years shopping really starts here in Russia. Maybe Sveta and I can go back to see the crowds?
Maybe – because a 8 to 9 hour shopping trip is a little too much. We can get all that we want within walking distance, but it is fun to see what the crazies are up to once in awhile… 🙂
Kyle and Sveta
Windows to Russia!
Related articles