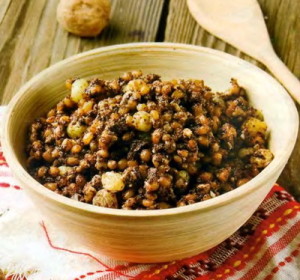 Kutya is a sweet whole grained pudding and is especially popular around the holiday times in Russia. My suggestion is to make this treat several days ahead of time, as it get better with age in the refrigerator and it will last up to two weeks if kept cold…
It is a food that is simple to make. but very rich in flavor, delightful odors and useful winter calories. This is a traditional holiday food that is eaten after the fasting times of the Orthodox religion…
Lets make Kutya…
Ingredients:
1 pound wheat berries (entire wheat kernel)
1 pound walnuts in the shell (or adjust down if you buy per-shelled)
2 1/2 cups granulated sugar (Honey makes a better sugar!)
1 real vanilla bean, grated (Or use fake vanilla if that is all that is available!)
Peel of 1 lemon, grated (Okay I know you have fake real lemon in the fridge! Use it sparsely!)
1/2 cup raisins
1/2 cup poppy-seeds (optional in the drug free America, Russian put poppy-seeds in everything!)
1/2 cup dried apricots, chopped
Confectioner's sugar as a topping
Directions:
Shell the walnuts.
Soak the wheat overnight, covered with water about 1 inch above the grain level.
Drain the wheat and refill with water until 1 inch above the grain.
Put the pot with wheat on the stove and boil it for 2-3 hours on a very low simmer. (No!  Low –  like I said!)
There should be just enough water after an hour in the pot to keep the wheat from burning.
Be sure that the heat is low and watch very carefully.
Add water if necessary. Keep it just above the wheat level the whole time.
Pour off water and rinse with cold water. Use colander if need be.
Pour off all liquid again after sitting 5 minutes.
Spread the wheat berries out on clean cotton kitchen towels and dry for at least 2 hours.
Place the wheat berries in a food processor or blender and grind them. Do not paste them, but grind as in a powder form.
Remove the wheat berries to a bowl and then grind the walnuts in the food processor.
Mix the walnuts with the ground wheat. (1,2,3,4,5,6,7,8,9 and 10 times with the big spoon! Okay twelve times is better…)
Add 2 cups granulated sugar, lemon peel, vanilla, raisins, poppy-seeds and apricots.
Mix by hand until a blended sticky thick mess.
Mound in a serving dish and sprinkle with confectioner's sugar.
Go ahead and make some Kutya, your family will be as surprised as you are, that you can make a treat that is better than any bought at the local store…
Also just call it a Christmas Pudding…
WtR