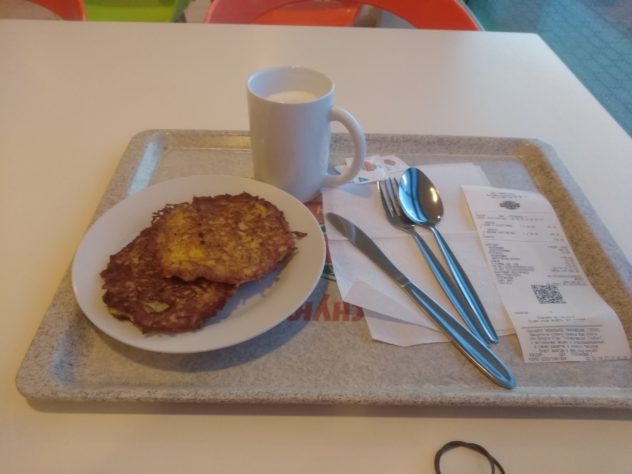 69.49 rubles was what breakfast cost… ($1.22 as of today)
Two hash browns with egg and tiny pieces of ham in them. A little salt and pepper and a cup of coffee made for a wonderful breakfast at 7:30 a.m.
Does it get any better?
Not at almost -20 C. and walking around 9000 steps every morning…
---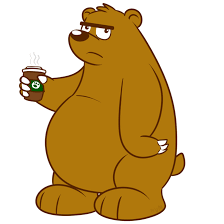 Now lets talk diabetes!
I have been diabetic since I turned 40 years old. Of course I was diabetic before that, but that is when I was diagnosed with the issue. It was time to see what was wrong. I had numb legs, was very lethargic and found my eyesight getting messed up. I can promise you that over twenty years later, I have done everything wrong for a diabetic to do and I have learned the hard way to get my act together and not destroy my body with diabetes…
Do I do everything perfect?
No! But I learn still and sometimes that makes me grouchy…
Here is what I have learned and if you experiment and try to follow some of them, you will do better. maybe you have a better tolerance for some things than me, but still you will benefit…
1. Starches! Starches will kick your ass….sweets and protein are better all the way around. Protein such as lean meat and eggs have virtually no effect. Fresh fruit sends my blood sugar screaming, but burns out quick. A candy bar does the same. But a potato, pasta and other starches are deadly. In moderation they are okay and will help stabilize you, but a plate of pasta with Alfredo sauce on it will send you to the moon on sugar levels… (What I ate this morning (potato, egg, meat and coffee) with walking has left me one hour later with 6.5 mmol/L level of sugar, other words: in about another hour, I will have to have a healthy snack, such as a slice of apple…)
2. Say it again: No bread, pasta and or potatoes. Unless you just have to eat them… This brings us to when you can try to eat them? (#3)
3. Exercise: You do not need to run, jog, dance and or prance. Though if you can, that is admirable and go ahead and do it. 🙂 But if you can walk and that means walk and walk and walk….I walk 8000 to 9000 steps a morning and a night (total is about 13 to 14 kilometers.) This does not include walking to the store and other activity. I have crippling arthritis and I know how bad walking can hurt. I still walk….after a few weeks the pain will lessen and you will build up a tolerance to the pain…
4. Find a treat that works for you. I have protein bars, with very little or no sugar and carbohydrates. Taste like cardboard, but will do the snack trick needed as I walk, I carry one in my pocket. I know when my blood sugar drops low. Just keep that emergency treat and if it is a treat that tastes like cardboard, then you will not want it and forget it is in your pocket. I decided if we have an apocalypse and Zombies take over the world? I will raid the protein bars at all the stores. They keep me stable and no one will grab them first….unless you are on insulin, any treat will do. The body just needs some food for energy mainly, even tricking the body works, like a sugar free candy…
5. Loose weight! Back to walking….fat people are prone to diabetes and  I have been fat and am still too fat. Lose weight and you will find your medicine has to be adjusted down. Maybe you will always have to take pills, but you will lessen the amount you take and you will lose weight….I am losing weight again, by the way…
6. Lets talk about a given, but sadly overlooked issue. Don't drink sugar drinks. Coke, Pepsi and anything with tons of pure sugar in them. Not even alternate sugars, such as fructose, sucrose and such. They will short term you spiking in sugar and you will then want a baked potato, sour cream and chives all smothered in cheese and salt and pepper. Then you will feel like crap for days….just think about that Thanksgiving dinner and the coma you go into after eating like a crazy fool!
7. Check your blood sugar a bunch. No more than that. Even more than that. Ouch you say? Damn it! Check your blood sugar and learn what it is at, when you feel a certain way. Yes, check your blood sugar, do it now….keep that sugar tester in sight and check it…
8. It really is simple: everything in moderation, exercise and last but not least….stress. Keep yourself from high stress levels. Stress is a killer and that has been my hardest thing to deal with. Stress means food for comfort and stress means sugar levels for me skyrocket…
I do nothing totally right, but I try and if you try and be honest with yourself at what you eat, how much you exercise and keep life calm. You will find that diabetes will not take you to an early grave and or have a leg or two missing…
I am trying and I exercise…
But it makes me grouchy at times… 😉
WtR
PS: I just check my blood sugar and it has gone down to 5.7 and as I said farther up, about an hour, I would need a snack. If I do not watch my levels, I will be in the 3's mmol/L real soon. It is because of exercise. The potatoes do not bother you as much…
| BLOOD SUGAR CHART | |
| --- | --- |
| Fasting | |
| Normal for person without diabetes | 70–99 mg/dl (3.9–5.5 mmol/L) |
| Official ADA recommendation for someone with diabetes | 80–130 mg/dl (4.4–7.2 mmol/L) |
| 2 hours after meals | |
| Normal for person without diabetes | Less than 140 mg/dl (7.8 mmol/L) |
| Official ADA recommendation for someone with diabetes | Less than 180 mg/dl (10.0 mmol/L) |
| HbA1c | |
| Normal for person without diabetes | Less than 5.7% |
| Official ADA recommendation for someone with diabetes | 7.0% or less |