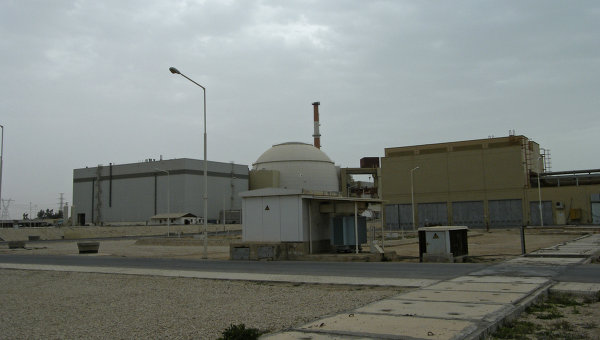 Against the wishes of the USA. Russia is launching the Iran Bushehr Nuclear Power Plant. The date has been set for August 21, the Russian Federal Atomic Energy Agency (Rosatom) said on Friday.
Rosatom spokesman Sergei Novikov told RIA Novosti that the first reactor at the Bushehr NPP would be loaded with nuclear fuel on August 21.
"From then on, it [the reactor] will be qualified as [an operational] nuclear power plant," Novikov said.
A Russian delegation headed by Rosatom chief Sergei Kiriyenko will attend the launch ceremony.
The United States has called for Russia to delay the start up until Iran proves that it's not developing nuclear weapons. Russian officials said that the latest official U.N. sanctions against Iran will not get in the way or affect the Bushehr project. The additional sanctions that have been imposed by America and the Eu are non binding sanctions that have hindered more than helped the situation with Iran…
The construction of Iran's first nuclear plant was begun in 1975 by several German construction companies. They pulled out following a U.S. embargo on high-technology supplies to Iran after the 1979 Islamic Revolution and the subsequent U.S. Embassy siege in Tehran.
Russia signed a contract with Iran to complete construction in February 1998.
On June 9, 2010, the UN Security Council approved a fourth round of sanctions against Iran over its nuclear program, including tougher financial controls and an expanded arms embargo, as well as an asset ban on three dozen companies and a travel freeze on individuals. Those sanctions were specifically exercised to exclude many Russian and Chinese projects so that America could get them on board. Later, the United States and the European Union imposed extra sanctions against Iran, including tougher restrictions on the energy sector and a tougher trade embargo. this then started the backslide of help from China and Russia on future sanction projects…
Even though the construction of the Bushehr Nuclear Power Plant has not been affected by the UN sanctions against Iran. America has increased her sanctions and now has repeatedly increased the pressured on Russia to drop the project and go along with all aspects of what America has sanctioned against Iran. The debates in America's congress centers on this subject about the defiance and psychotic relationship that Russia has with Iran.
Russia has woke and seen the truth…
Windows to Russia!
Russia: Iran's nuclear plant to start next week (seattletimes.nwsource.com)
Russian nuclear agency says launch of of Iran's first nuclear plant will begin next week (foxnews.com)
Russia says to load fuel in Iran reactor on Aug 21 (msnbc.msn.com)
Iran nuclear plant launch beckons (bbc.co.uk)
Iran's first nuclear power plant set for launch Aug. 21 (theglobeandmail.com)
Russia objects to EU Iran sanctions (seattletimes.nwsource.com)
You: Bushehr nuclear plant construction unaffected by Iran sanctions: Russia Foreign ministry (nation.com.pk)
Russia says Iran reactor will start up in August (reuters.com)
Russia Ready to Launch Iranian Nuclear Power Plant (israelnationalnews.com)
Russian official: Iran's reactor ready by August (seattletimes.nwsource.com)
Man – this is a big item in Western Press…  Hummmmm!