Yesterday I wrote this article below…
Lets beat two dead horses (squirrels) until they are glue at the factory…
Now today in what is always the normal pattern of ignorance from the USA…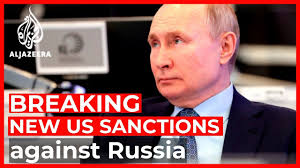 WASHINGTON, September 22. /TASS/. US House Rules Committee passed an amendment to the defense budget, which recommend the US administration to consider imposing sanctions against 35 Russian citizens, including Russian ministers, major businessmen, public figures and journalists.
Source: US House committee recommends imposing sanctions against key Russian officials – World – TASS
The list includes Kremlin spokesman Dmitry Peskov, Prime Minister Mikhail Mishustin, Central Election Commission Ella Pamfilova, First Deputy Administration head Sergey Kiriyenko, Minister of Agriculture Dmitry Patrushev, Health Minister Mikhail Murashko, Russian National Guard Director Viktor Zolotov, Federal Security Agency Director Alexander Bortnikov, Investigative Committee Chairman Alexander Bastrykin, St. Petersburg governor Alexander Beglov, Moscow Mayor Sergey Sobyanin, Roman Abramovich, Alisher Usmanov, Oleg Deripaska, Gennady Timchenko, Gazprom CEO Alexey Miller, Rosneft CEO Igor Sechin, VTB CEO Andrey Kostin, VEB CEO Igor Shuvalov, RT Chief Editor Margarita Simonyan, journalist Vladimir Solovyov and Channel 1 CEO Konstantin Ernst…
I know what to do!
Just sanction all the people in Russia and get it over with…
Everyone/everything from the bears to the president….Include me in that please…
WtR