Enjoy the images, it is our (Svetochka, Boza and I) world we live in…
I want to thank people for the donations. We have been able to buy enough birdbrain seed for the whole winter now. This is very important and you help make it possible to keep a bunch of birdbrains healthy and happy in the deep of winter…
The circle of life is always apparent in the Tiny Russian Village…
Even if we do not like what we see, it is life. The other day one of the partridges was grabbed by a hawk and that hawk had a good meal. Carelessness will kill you! Svetochka witnessed it and she was not happy. I am use to it in the Tiny Russian Village…
Then a few days ago, a tiny hawk grabbed one of our sparrows. Right in front of me in our cherry trees. These predator birds are fast and deadly. Mini versions of Mommy Eagle. Glad she is not here now. Boza and I would be a meal with that beast…
I wanted to kick that hawks butt!
Eurasian Jays…
from what I understand the beautiful bigger birds I am feeding are Jay Birds. Like the Blue Jay in Missouri as I grew up, but slightly different I markings. I felt they were a Jay Bird…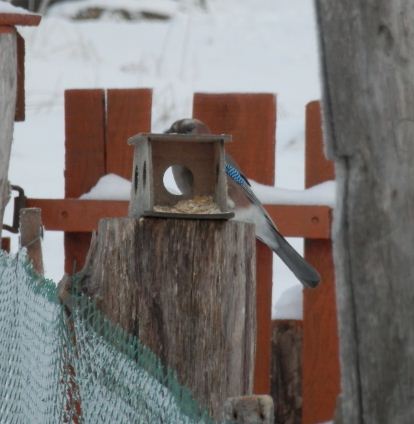 Jays need to eat also!
* * * * *
I have not said much, but I am watching this event of the Russian Ambassador who was assassinated in Turkey…
The Russian envoy to Turkey, Andrey Karlov, was murdered after a gunman stormed into a building where the opening ceremony of a Russian photo exhibition was being held.Karlov was shot in the back and died shortly after the attack.The assassin has been identified as Melvüt Mert Altintas. Turkish TRT adds that after a shootout with the police, the gunman was shot dead.
Things do not add up and spouting about retaliation is not the answer. I am studying what happened and will find who benefits from this murder and now it seems another diplomat has been killed in Moscow
Russian diplomat is shot dead at his home in Moscow hours after the assassination of ambassador in Ankara. A high ranking Russian diplomat has been found dead from gun shot wounds in Moscow, it was reported early today. Petr Polshikov, 56, was found at his home in the capital city with a bullet wound to his head.
Russian diplomat Petr Polshikov shot dead in Moscow hours after …
Lack of security is my first most issue…
Have a nice day!
WtR