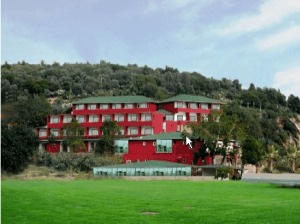 Sveta called and it looks like we go to Turkey on the 2nd of October. We will be there on a 15 day and 14 night tour package that cost us $729.00 American dollars. That includes airfare, hotel and all food for two (2). Why that is less than $50 dollars a day…
So as I was sipping that cup of chicory today. I was thinking about Turkey and what I have to do to get ready for our trip. That is the worse part of it all. I will be worn out before I get to the trip. That is okay though and I know of a sweetie (Sveta) that is excited as all get out, to go to Turkey… 🙂
We bought a package to a well known hotel that caters to Russians and Germans as their main clientele. It is called the White Inn Hotel near Alanya, Turkey. It is on the Mediterranean Sea and it looks like a great place. We picked it because it is more isolated than most of the sea based hotels and reviews by Russians are really pretty good. It seems that Russians main complaints about this hotel is related to a tiny swimming pool (But what about the ocean?)  and alcohol. There seems to just be not enough free and strong alcohol… 🙂
Nestled between the Taurus Mountains and the Mediterranean Sea, White Inn Hotel is 5 km from the center of Alanya. It has a private beach area and offers air-conditioned guestrooms with balconies. White Inn rooms have parquet floors and simple furnishings. They come equipped with satellite TV and a minibar. The private bathrooms include a hairdryer. In the morning the Inn serves a buffet breakfast with fresh fruit and hot tea. The hotel's restaurant offers buffet meals with traditional Turkish dishes prepared from fresh ingredients. Guests can relax in a sun lounger by the seasonal outdoor pool, or visit the fitness center. The hotel has a Turkish bath and provides free Wi-Fi in public areas.
We have done a lot of studying and we have come to discover that in Turkey, you seem to have three main traveling groups. The Germans, the British and the Russians. Now it seems to us that Britain's dislike vacationing where the Russians and the Germans seem to be prominent. Whereas the Russians and the Germans just party anywhere and everywhere. Regardless if the British are around or not. The British make it clear in reviews what hotels are over run with them damn – Russians and Germans…
We picked a hotel that was not over run with the British… 🙂
Kyle and Sveta
Windows to Russia!
PS: I think I need to remember to take my chicory with me…
Related articles