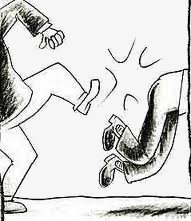 UPDATE: Alexei Kudrin resigned on Monday as Russia's finance minister and deputy prime minister after a dispute with President Dmitry Medvedev. The president has already signed Kudrin's resignation request, the presidential spokeswoman said.
Update 2: First Deputy Prime Minister Igor Shuvalov will oversee financial issues in the Russian cabinet while Anton Siluanov will become acting finance minister following the dismissal of Finance Minister Alexei Kudrin, Prime Minister Vladimir Putin said on Tuesday.
In an article earlier today I said: "We will see the long term repercussions to that slip of a Kudrin tongue." Okay – Looks like we are finding out right now about that slip of tongue in America. The Russian press has taken the ball and ran today with Kudrin's words of wisdom about Medvedev over the weekend. Now Medvedev has put his foot up Kudrins butt…
President Medvedev has asked Finance Minister Kudrin for his resignation following Kudrin's public refusal to keep his position in the future if Medvedev heads the Russian Government.

Aleksey Kudrin said he has to discuss the situation with Prime Minister Putin first. Medvedev demanded that the issue is settled before the day's end.

"You can discuss it with whoever you want, including the Prime Minister, but as long as I am the President I take such decisions," Medvedev said. "If you believe that we have differences, you can tender your resignation right here and now."

The president said making loud public announcement over the workings of the government, "looks improper and cannot be approved of" due to the violation of chain of command.

"Nobody abolished discipline and subordination in the government," Medvedev said. The fact the Finance Minister's statements were voiced while he was in the United States was particularly offensive, he added.
I also taught my managers that, "No One is indispensable!" I would also teach that you must always remember, "Someone else wants your job!"
I find this awesome because it is so much like a corporate show down in the real world. You gotta nip it in the bud before it gets out of hand…
Medvedev will not go down easily as a lame duck president. These last few days Medvedev has gained a lot of respect back, with me at least. That is what counts in my book. I promise you that Putin will kick Kudrin's butt also…
That is why I love Russia…
Kyle Keeton
Windows to Russia!
PS: There was an article earlier about how Medvedev was reading the blogs on the situation of the Russian presidency. Looks like he really has been because us bloggers have stirred the WWW here in Russia over this situation. I have been simply slammed today on these articles…. 🙂
Related articles