Сараевский американец Кайл Китон: «Россияне не хотят войны» – American from Sarai, Kyle Keeton: "The Russians do not want war"

http://ryazpressa.ru/news/articles/saraevskiy-amerikanets-kayl-kiton-rossiyane-ne-khotyat-voyny_03-12-2015/

In Sarai area there was an unusual lodger. An American Kyle Keeton masters the Ryazan hinterland.

– "I grew up in the west of America, Missouri, where, too, are frost and cold. Only the winter there is much shorter than in Russia" – says Kyle. – "So I am not afraid of Ryazan province."

Kyle calls the outback village "Dawn of Liberty." It was here that he lived in a small house, bought his wife, Svetlana, 25 years ago. Generally Svetlana originally from the area, but her parents' home at the time became dilapidated, and then collapsed. So I had to buy a new one because it would not let small homeland. Initially, Svetlana went here with her son, and now with her husband Kyle.
The newspaper hit the stands and we are in print, not just internet…
No wonder the whole town knows about Sveta and I. We are local celebrities…
* * * * * * * * * *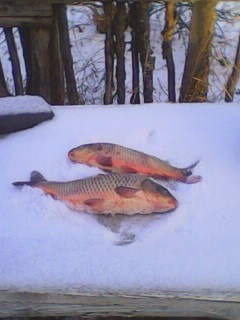 Ever tried to clean fish at -12 below Celsius? Well I got the pleasure again today and my fingers have just thawed out. I am freezing them for when Sveta comes and Boza got a fish head to eat today. Now that was a surprised doggy; fish heads in the winter! Oh My!
Up the hill came one of the fish village managers and I bought two fish for 50 rubles. Buddy bought a bunch (like 10 kilos) and he was a 100 rubles short, so I lent it to him. He is making fish stew for the New Year and I will get my money back in delicious stew made from these fresh fish…
Looks like big New Year party at Buddies and I will go early and stay away as the drunks get wild. I told buddy that I love Sveta and no way will I stay to chase women and or drink. For it seems that he has as many women (and twenty gallons of moonshine and twelve bottles of vodka) as he can invite coming and a bunch of guys also. After declining late night invitation. He (Vova) smiled and said, "Kolia lyublyu (Kyle love) Sveta!"
I said with a big smile, "Ya lyublyu (I love) Sveta!"
That sums up who is special in my life…
Kyle Keeton
Windows to Russia (WtR)