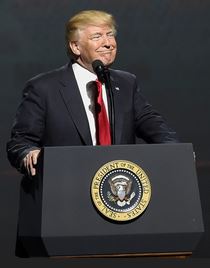 That people actually want to believe that Trump is the person to lead a revolution in the USA!
Trump is the system!
I agree that the US needs a serious makeover and it needs to be slapped down with its bully attitude and hate for the world, its hate for its own people, the overreaching tyrannizing of its desires, yet to look at Trump as a leader of a revolution to change the system that he endorses and makes him rich, is nuts to say the least…
Trump had his usage and I spoke of that usage right here on WtR. But to lead a real change? Trump is too much part of the system to do that…
I shake my head in disbelief at the Trumpies, the Bidenites, Obamanites & whatever/whomever is being worshiped at this moment…
Trump is no leader if you want a revolution!
You have to find that leader first and then get that revolution going. Too many wanna mouth off and no one take the reins to accomplish the task…a revolution has to be built and developed with a network and silence. Then timing has to be perfect to expose that revolution to the system and rock the boat…
Gotta find a Che Guevara, Robespierre, Luxemburg, Gandhi, Toussaint, Mother Jones, Connolly, Zapata, Fanon, Trotsky, Marx, Bakunin, Lumumba, Makhno, Durutti, Spartacus, Mandela, Lenin, Cromwell, Ho Chi Minh, Garibaldi, Mazzini, so many more fit the bill and yet we seem to be lacking on one to change the USA…
Hmm, not Trump….Trump is the system!
WtR