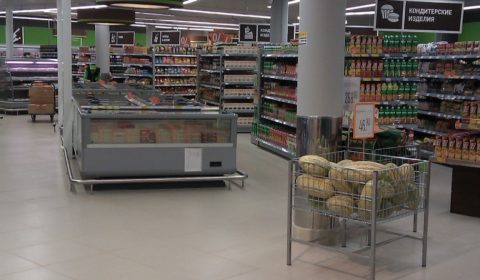 I find it interesting about the disinformation in the west about Russia. I live here and what I see is something totally different than what you are led to believe. This image is of a typical grocery store in Moscow. If you come about an hour from when I took this image, you will find the store packed and the other five just like it nearby will be the same…
Fully stocked and everything available that you would ever need. Also priced much better then what you would most likely buy it at, especially in the west…
Russians make anything and everything that can be sold and made money off of. With the exception of a few tiny hiccups, Russia has filled the gap and exceeded in both quality and price any products that were effected by the sanctions and counter sanctions. The only issue I see is; Russians need some lessons on how to order and stock properly, but they do get it done given time…
Everything you see in front of you is Russian grown, Russian made and Russian designed and built. The stores in Russia are unbelievable and stocked to over flowing…
We even have my favorite store; the equivalent to an American dollar store. These are my favorite stores, I can buy anything from stainless steel radiator clamps by the pack of ten to two liter bottles of soda and all for around 50 rubles each…
* * * * * * * * * *
I have owned many cars! I have owned Lincoln Continentals, Mercedes, Cadillac, Lexus, Ford, Volkswagen Beetle, Ford Falcon, Chevy's of various types and dozens of other brands and models of cars. Expensive to very cheap is my realm of experience with cars….Why I even owned a Yugo… 🙁
I have owned two Volga's, one was a model 24-10 and the one I own now is a Volga model 310221. I have a vast background of cars. I raced cars at the drag strip when younger, I have sat in pure luxury and I have rebuilt many an engine in my time…
I can honestly tell you that the best cars I have ever owned are my Volga's. Well to be truthful, I owned a 1969 SAAB, now that was a car and would be the only thing comparable to the ease of working on a car, to the Volga. Now I do wish I had some of my old Muscle Cars I owned….1969 Ford T-Bird 429 Thunderjet and a 1969 Dodge Challenger with a 440 Magnum engine. I also had a 1964 Plymouth Satellite with a 383 Commando engine and it was the cats meow…
Any of those last cars would make me one rich man in this day and age. I could not even fathom what I could sell one for here in Russia, but I would live off the interest the rest of my life. That I know…
The Volga is the car made for me. It is simple and tough as shoe leather. It can be held together with bailing wire and duct tape and get you home. I know, I have owned two, bought used and have driven many a kilometers around Russia, Moldova, Ukraine and other places in a Volga. Trust in the product is what comes to mind…
Shame that Volga's are no longer made…
* * * * * * * * * *
Sammy the Volga is going to get some new body parts. Our friends in the Big Village, who put in her new engine, will scrounge for parts and weld in new rocker panels, install used doors and paint her for little to nothing. One thing that our mechanic wants to do is install a diesel turbo for a zmz-405 Volga engine, he has sitting around. Doubtful, but would be fun in the sun to have a boosted Sammy Volga, to tool down the road in… 😉
Money is the issue and fun is related to the money you have. The money has to go for what is necessary and not for fun and games anymore. But a bear can dream…
We will get Sammy good to go another 10 years and that is what is necessary…
Just like we bought two front tires for Sammy. South Korean made and very high quality. Steel belted radials and they cost American Dollars equivalent $20 bucks each. Kumho brand to be exact and I have worn several pairs out in the last ten years…That is a many a kilometer to be for sure…
* * * * * * * * * *
Russia is no exception to what is happening all over the world.
We have in Russia, for the most part a very material life and when I see Americans spout about how great America is and how wonderful to be rich! I get disgusted, for to be honest, the world has as much or more than what we do in America and propaganda has led you to believe that only your little spot is perfect and nothing else matters…
I am still amazed and still put out when I get and see comments and emails about, "Just leave America if you like it so well, go somewhere else!"
Good idea and if more Americans would just do that! The world would be a better place, for you would see that everyone is just like you and you need to get off the high and mighty pedestal…
There is nothing that America can offer that is not already in plentiful supply to rich or poor all over the world. We have exceptions, but exceptions are just that, exceptions and the general status is plentiful…
Exceptionalism is the word that is well known for Americans to be spouting. This word is used from our politicians to trolls commenting on foreign websites…
Exceptionalism = Narcissistic Personality Disorder and is closely related to Grandiosity; which is a very unhealthy unrealistic sense of superiority to others…
* * * * * * * * * *
Got a comment…
Why are you here?

I mean, if Russia is the last, best hope of humanity and such a wonderful, heroic, just gee-whiz super nice place to live ruled by the most wise and benevolent man since Jesus Christ and perhaps even better…

Then what are you doing here in the degenerate, evil, no-good-nik West?

The Russian Army accepts foreign volunteers.

The Russian economy needs and welcomes foreign workers in all sorts of fields.

Sell your shit in a garage sale, hop on a plane and go spend the rest of your days in the glorious Motherland.

They want you. You clearly want them. It seems like a match made in heaven, if you ask me.

But all you guys loll about in the bars and cafes of the nasty ol' West. And you snipe. And you carp. And you fucking whine constantly about what a rotten place it is.
It was by "Proud patriot America" and under a proxy (of course,) and most likely a cut and paste and is put all over the net…
My answer, "That is just what I did and have never looked back. Please troll and troll such comments, because it is really the best information that they could try to slap Americans with. We should leave and we should see the world. Then maybe we could go home and understand that the world is a very wonderful place…"
All I know is that when I walk among the natives of other countries and watch life flowing around me. I realize that we, The Americans, The Exceptional Ones, The Best the world has to offer, are the ones who are isolated and in a prison of our own makings….Life is good in America, but life is just as good elsewhere and until you come to grips with that and stop the killing of other people and other countries, that are happy as they are with their life as it is. Life can not become peaceful and polite…
The day you are mingling with the people of a country like eg. Tunisia and eating dinner with them and walking the streets with them. Then you will see that life is really exceptional all over the world…
That is just one tiny example and I have been all over the world…
It is interesting to sit with Russians and talk politics! Russians know how to talk through the subjects of political waste lands and discuss with a open mind, all the while playing a chess game at -20 below zero, outside as it snows and discuss why the world sucks…
Now that is exceptional to a tiny degree in my eyes, but Russians would disagree with you and tell you that, "It is simply life in Russia!"
Now that is a thought!
It is simply life and life is good, though different, all over the world. And who are we to decided if their life is good or not?

WtR