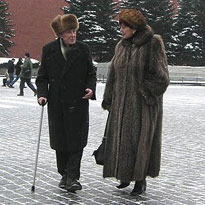 I bet with the cold weather you are having in the USA that you wish you had some real coats and fur to boot. In Russia it is well known that they have fur and wear the fur, to much of the western worlds dismay…
Except maybe Canada this hold true as a statement. Canada has a weather world like Russia and you have to do what you have to do to survive. If that means to wear fur coats of animals, then so be it. Nothing matches a fur for warmth. Ask a bear…
Right now Russians are not wearing their fur coats. It is way too warm and the fur has not come out yet, as we have no need. But in America where the country is being slammed into the cold hell of earth. (Like Russia is normally!) I bet you would change your mind real quick if you had a choice right now. I have been watching images of people in America and they are screaming bloody murder at how cold they are. Then I see what they have on for coats. Many times it is not even a real coat…
I have a coat that is good until -45 below Celsius and no one, but no one should have any less of a coat in Russia, available for when the earth freezes over as it does all the time here. I can tell you that men or women alike in Russia, will bring out a fur coat and not feel guilty at all as they continue with their life and never shut down a single business or school. You just do not care that it is cold and you are prepared for the fact that God will forsake you and leave you with no heat, when you need it most…
I have said many times in articles, "The Russians have many coats and they keep coats on according to the weather outside. These coats range from light windbreakers to a full fledged bear skin thrown over your body. Cold to a Russian is a mental thing only and you do what you do and continue on your business. Russians play chess in -30 below zero!"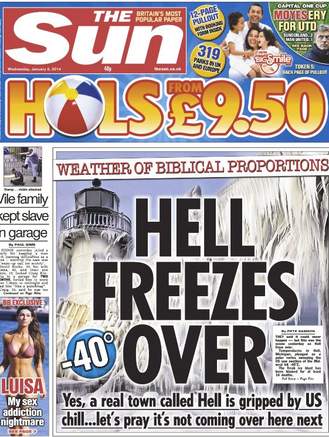 I will not say much about the stupid news that I am hearing from America about the cold and I won't criticize. But I will say that you should have a coat and I mean a coat, fur or not, for I remember well as I grew up in America's Midwest. It got cold enough to freeze a witches titty and that is no lie!
I grew up in a world that had fur coats in the US and that definitely changed and I also know that you elders dream of that warm fur right now. We use to have this cold weather all the time and maybe it was not as country wide extensive, but it was brutal and not so long ago. I remember a winter in the Ozarks in Missouri during January that stayed at -16 to -20 for the whole month and I burned enough propane to choke a horse. I wore a woman's fur coat as I tried to save the livestock and my family. I succeeded…
When I see a woman walking the streets around here with her fur on. I always smile and think about the people I saw verbally and physically abused in America, for years and years, over wearing a fur and how terrible it is…
I bet some of you would just love to have a decent fur coat right now, so that you could walk outside and not freeze your ass off. Yes that fur, that went all the way to your feet and had a hood to cover your head…
Damn it is warm and safe..
Posted by Kyle Keeton
Windows to Russia…