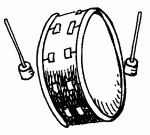 Time Magazine has written a dozy of a propaganda article. They just made it clear that they know that al-Qaeda is involved now and in the future and they give why we must stand strong to counter such a issue and future issues from that involvement… (Boom Boom Boom – Beat Them Drums…)
Al Qaeda's first argument against the U.S. is that it supports the tyrannies of the Arab world as they oppress their people.
That is a pretty fair argument by al Qaeda because it is true. But now lets not let that little issue stand in the way… (Boom Boom Boom – Beat Them Drums…)
Now the U.S. has the opportunity to break the dysfunctional dynamic that produces anti-American hatred and violence. The Obama Administration has properly aligned itself with the hopes and aspirations of the Arab people, and it has called for governments in the region to engage in serious reform. But right now all these efforts have been sidelined. Libya is burning. Its people rose, and the tyrant gunned them down. Unless something changes, Muammar Qaddafi and his sons will be able to reassert control over the country amid a mass slaughter of its civilians.
Damn that Qaddafi – he is a real party pooper. Now remember you must rally around our great leader (Obama) because we would not want to have him humiliated… (Boom Boom Boom – Beat Them Drums…)
This would be a terrible outcome. President Obama has made it unambiguously clear that he wants Qaddafi to step down. The U.S. is actively seeking his ouster. To have him survive would be a humiliation for Washington at a moment and in a region where its words still have great impact. It would also send a disastrous signal to the other rulers of the region — in Syria, Algeria, Iran — that Mubarak made a mistake and that the way to stay in office is to engage in mass slaughter, scare the U.S. away and wait out the sanctions and isolation. America would lose its opportunity to align with the rising forces of the Arab world.
So Mubarak was a good boy and rolled over when he should have? So next at the very least because Qaddafi was a bad boy. We should… (Boom Boom Boom – Beat Them Drums…)
Giving arms, food, logistical help, intelligence and other such tools to the Libyan opposition would boost its strength and give it staying power.
and the finale is… (Boom Boom Boom – Beat Them Drums…)
The best way to prevent al-Qaeda from turning Libya into an area of strength would be to have the fighting end — with Qaddafi's defeat. So let's help the Libyan opposition do it…
Read more >>>
Why there is that al Qaeda word again. Looks like they might be involved in all this…
Go ahead and read the article. It is what you want to hear and believe…
Go ahead because while we Boom Boom Boom – Beat the drum, time is running out because we should be getting in there and talking to Qaddafi with the opposition like Chavez asked everyone to do…
We are wrong but we will be made to be correct by actions of all…
Go ahead and Boom Boom Boom – Beat Them Drums…
Windows to Russia!