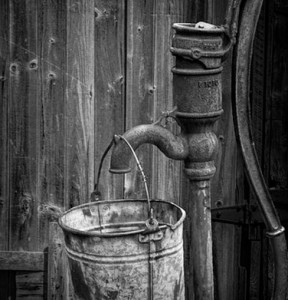 I walked out the door this morning, later than usual, I cut grass yesterday and it was hot. The effect is to make me shut down a little longer than normal at night. So at 5:30 a.m. I finally got out the door with a cup of coffee. Boza followed me and we immediately realized that a party was going on in the newly uncovered side yard. Now you understand that these parties may have been normal until now, for I have cleared the mess that was there and they are exposed. But I also left a bucket full of water to douse an out of control fire…
I stood there staring at a water bucket surrounded by birds. Momma birds, daddy birds, baby birds, little birds, fat birds, skinny birds and just birds and birds and birds. All a scrubbing and partying to beat the band…
Then the song;
Splish, splash, I was takin' a bath
Long about a Saturday night, yeah
A rub dub, just relaxin' in the tub
Thinkin' everythin' was alright

Well, I stepped out the tub
I put my feet on the floor
I wrapped the towel around me and I
Opened the door

And then a-splish, splash
I jumped back in the bath
Well, how was I to know
There was a party goin' on?
What a party it was!
* * * * * * * * * *
So in my mind became this article and how easy that nature is made happy. Little creatures big and small all know how to enjoy life, when allowed to. Life finds its ways and I have decided that humans must get back to nature or we will become lost souls on this planet. Regardless of how wonderful we think we are, we must not, can not, should not, lose touch with Mother Nature. For our beginnings are from the earth and from the earth is the only place that we can gather the necessary ingredients of life to fulfill our destiny. Inanimate objects of tech, just drain our energy and anyone who allows half a chance, will find that a stroll in the countryside, will send shivers of energy to deep recesses of your being…
* * * * * * * * * *
I know, for everyday, I get stronger and stronger. This is an issue to me for when I had all my heart attacks and other issues, I lost a lot of strength in my main arm, the right side to be exact. Doctors told me not to worry for I was still stronger than most people and I use to get upset at such a stupid thing to tell someone. I could care less how strong you are and they are, I just know that what use to be is no longer available to me…
This time in the village, I am feeling the change. My left arm and hand is still vastly stronger than my right and I have had to adapt certain issues to that commonness for me now. I am finer tuned with my right, but much stronger with my left…
I force myself to lift equally with the water buckets and my heart issues show up at that point; I have two 15 liter buckets when full of water and they weigh about 17 kilos full to the top. 17 kilos is about 37 pounds in America. I can lift one 90 degrees to my body with my left arm straight out from my side, but while I am able to almost do the same with my right, the right arm starts shaking and even if I get it up level, it is too short of a span of time to call it successful. The shakes and jitters really get out of control…
This is the same for my legs and other such parts of my body…
I had a special issue that cropped up when I had such multiple heart attacks, and I spent days in a special treatment that dealt with capillary blockages. Therefore, that is when is when the full discovery of how much blockage I was dealing with and thus my last stint to alter blood flow in my body was born from that moment and it worked…
But a 100% it never became, though this year, I feel a change happening and this year after the improvement from last year, the change is exponential…
All in my head or not? Does not matter, because healing is mostly from inside and I have discovered that if you want to die you will, if you want to heal you will, a majority of the time. The mind is a very powerful tool and we need to learn how to use it properly… 🙂 Good luck with that from what I see in the world…
The gods gave us what is necessary and we need to figure out how to use it all…
* * * * * * * * * *
Life is a bucket of water!
It really is that simple and when you watch animals rejoice in a simple bucket of water left outside for them to find, you realize how important it is. Water is the one substance that has to be pure or we all die. Water is the essence of life and without it on earth, we would cease to exist. Water is what makes our earth perfect and we better learn that tidbit of a fact…
Post by Kyle Keeton
Windows to Russia…