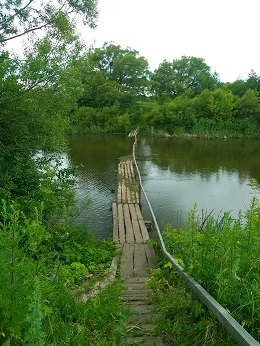 I was stretching my body and getting ready to walk with Boza. Then I heard the far off whine of an engine and Boza recognized the sound. It was Father Pavel and he was tearing up the mountain of our Tiny Russian Village at around 4:15 a.m. Dust flying and Boza and I grumbled at being disturbed so early in the morning…
Father Pavel had two others with him and they sped to the church, then we walked up and watched. They built a fire first…. It is cold you know? Then they gathered icon holders and Father Pavel had a notebook full of papers. He was studying the papers as his helpers worked around the church. Then I heard another car and I knew that this was going to be a busy day at the monastery…
Soon babushkas and some kids with moms and dads would walk up the mountain. They cross the sunken bridge as they come. I checked the bridge last night and it had gone down even more than earlier in the day. Shoes off and careful across and you will be here soon…
Boza did his doggy stuff and I watched a little longer. Then coffee was calling my name and after thanking god for allowing me to live in such a wonderful place as this Tiny Russian Village, Boza and I wandered down the mountain to our home…
It is amazing to see the things I see; until you have seen hundreds of babushkas and family walk across the river and up the steep hill, you do not have a true understanding of Russian Faith in Orthodoxy. It is amazing and walking for many kilometers to attend service is the norm…
Everyone is dressed in black, browns and some dark blues, as a general attire. Scarves are on all the women and the men bareheaded. Children are normally the most colorful and that is kept to reds, white, black and greens, as a norm…
I am not positive about the exact holiday, but the information below is about this exact day in time. I would imagine that it is close to what is being observed here in our Tiny Russian Village. The information below is from a Russian London Church…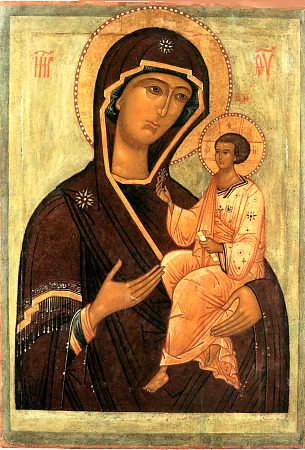 Sunday July 9, 2017
5th Sunday after Pentecost. Tone four.
Apostles' (Peter & Paul) Fast. Fish Allowed
Appearance of the Tikhvin Icon of the Most Holy Theotokos (1383).
Venerable David of Thessalonica (540).
New Hieromartyr Gregory priest (1918).
St. Dionysius, archbishop of Suzdal (1385).
Translation of the relics (1569) of Venerable Tikhon of Lukhov (1503).
Venerable John, bishop of the Goths in Crimea (ca. 787).
Kazan "Of the Seven Lakes", "Nemetsk" (1399) and "Lidda" or Roman Icons of the Most Holy Theotokos.
The Holy Martyred Brothers John and Paul, and Gallicanus
Venerable Serapion of Kozha Lake.
Translation of the relics of St. Brannock (Brynach) of Braunton, England (Celtic & British).
New Martyr David of St. Anne's Skete, martyred in Thessalonica (1813).
Anthion, monk.(Greek).
The Scripture Readings:
Luke 24:12-35 (5th Matins Gospel)
Romans 10:1-10 (Epistle)
Matthew 8:28-9:1 (Gospel)
Philippians 2:5-11 Theotokos
Luke 10:38-42; 11:27-28 Theotokos
* * * * *
This post is not trying to tell you that you must observe, it is telling you a tidbit of my life in a Tiny Russian Village. This is the key; I observe and I tell the truth about what is happening. I tell as much truth as I know. People do not understand why I would be in such a backward, low tech and simple place?
I know 80% of who reads this article would think I am crazy for even caring about such things…
Being raised a christian, first with Methodist and then as a Baptist, I learned that religion is not what is presented, but what is in your soul. I am neither a Methodist or a Baptist, nor am I Orthodox. I am myself and I enjoy all religions and believe that all are the same at the core…
What amazes me is that the strength of the Orthodox people is beyond anything I have seen before. All the abundance of western based religions pales compared to the simple, yet exotic workings of the Orthodox…
It is a power that is Godly driven and if you lived in The Tiny Russian Village, you would see, hear and feel it daily…
This monastery is truly a place that God dwells…
A visit to the monastery of St. Nicholas – Посещение святой обители святителя Николая
Today will be a day of rest for Boza and I. Tomorrow is soon enough to finish cutting grass and digging post holes…
Have a nice day…
WtR