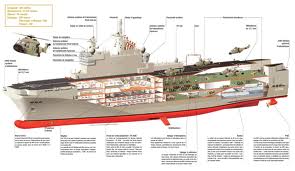 It seems that Russia will buy a Mistral class amphibious assault ship from France with the complete set of navigational equipment and technical documentation. Then Russia will equip the ship with its own weaponry and helicopters a Moscow news source stated today.
This is a subject that Windows to Russia has been following from the beginning and it looks as though by the end of this year is when the deal will be finalized. It seems from what is being said on the Russian news sources that Russia will purchase one ship then build two more Mistral class amphibious assault ships with the help of the French naval shipbuilder DCNS within shipyards of Russia. France has confirmed the desire to sell said ship and Russia has said today that the details are almost worked out.
Now that balance of technology seems to make sense and should not upset the Western worlds sense of balance. The only issue that I see going on in Russia as of today with this purchase is about the helicopters. It seems that there is talks of Russia also wanting to purchasing 100 Ka-class helicopters, including some 70 Ka-27Ms, to equip the Mistral ships. They say that they have to raise the decks of the ship to use Russian helicopters…
Russia has also said that since they will be using this ship in the North area that they will have to reinforce the hull to with stand ice as it makes its way through the Northern Latitudes. Russia also said that the Mistral Class ship is capable of transporting and deploying 16 helicopters, four landing barges, up to 70 armored vehicles including 13 battle tanks, and 450 personnel.
Hummm using it up North! Do you think they will go after Santa Claus? 🙂
So we will keep you updated as we discover more information about this interesting transaction…
Windows to Russia!