By Galina Stolyarova
Published: June 22, 2011 (Issue # 1662)
When Yevgenia Gurova, a 21-year-old student of the Northwest Institute of Publishing, reached the nearest metro station on June 16 to travel back home after taking an exam — Gurova is in the middle of her end-of-year exams — she discovered she was banned from using the metro. For Gurova is disabled, and moves around the city in a wheelchair — something that suddenly became a concern for the local metro management, which issued an order banning all wheelchair-bound people from the metro because "its elevators are not equipped for wheelchairs and are therefore potentially dangerous."
For Gurova, the officials' concerns are nonsensical.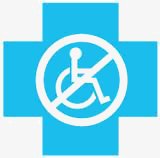 "I find the metro the only accessible means of transportation: You get in, you get on the elevator and put on the brakes on your wheelchair, and then get off safely," Gurova wrote in her blog at jenianm.livejournal.com/14077.html. "Just try and imagine what it feels like squeezing yourself into a full trolleybus or bus, which in most cases are not even equipped with an access ramp!"
Gurova's post provoked an avalanche of commentary on the Internet, and within days city officials up to City Governor Valentina Matviyenko were facing tough questions from local media.
Deputy Governor Yury Molchanov told reporters that City Hall has requested that a new type of safety device for elevators, designed with wheelchair users in mind, be developed and installed at local stations. The official stopped short of estimating how much the new technology would cost and how long the initiative might take to implement.
"A tender for the development of the safety device will be organized by City Hall in the near future," Molchanov promised.
The management of the St. Petersburg Metropolitan defended its actions by issuing a statement in which its representatives claimed that "it is international practice not to allow people in wheelchairs on the metro for safety reasons."
As Molchanov pointed out, all new metro stations currently being built or developed are equipped with access ramps, slopes and other facilities for disabled people.
According to City Hall's press office, the St. Petersburg metro is currently implementing a new safety system for blind people that includes the installation of special floor lines with a rutted surface that can easily be detected by blind people using sticks and used to help them find their way.
In the meantime, Russia's ombudsman Vladimir Lukin has called for the creation of an expert council that would develop a series of measures to protect the rights of disabled people and ensure that they have equal access to public transport.
"Disabled people are banned from using the metro not only in St. Petersburg, but also in Moscow and other Russian cities," Lukin told reporters in St. Petersburg on Tuesday. "It is high time that we found a solution to this very unfair situation."
According to official statistics, there are about 800,000 disabled people in St. Petersburg, including 15,000 children.
Windows to Russia!