MOSCOW, June 22 (Itar-Tass) — People in Moscow, St Petersburg, the capitals of ex-Soviet republics and other cities are to hold a vigil of memory on Wednesday.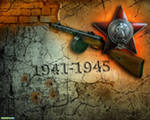 Yekaterina Abramova, director of the Interstate TV and Radio Network MIR (peace), has told Itar-Tass, "The vigil, dedicated to the 70th anniversary of the outbreak of the (1941-1945) Great Patriotic War, is to begin at 04:00, Moscow time — at the hour when Nazi Germany perfidiously attacked the Soviet Union (in the June of 1941). On this sorrowful date, people who support our idea will go out to squares of their cities, visit Eternal Flame monuments, light candles, and honor by a minute of silence the memory of all those who perished in that war."
The Vigil of Memory is to be held in nineteen cities as follows: Moscow, St Petersburg (formerly Leningrad), the capitals of ex-Soviet republics — Tbilisi, Baku, Almaty (formerly Alma Ata), Dushanbe, Bishkek, Yerevan, Minsk, Vilnius, Chisinau, as well as s in Penza, Vitebsk, Lugansk, Kostroma, Tula, Odessa, Mogilyov, and Simferopol.
"City-folk can take part in the vigil in person or via the Internet," Abramova said. For this purpose, a www.vahta-pamyati.ru website is open for people to be able to tell about their relatives who fought at the front-line or worked on the home front during the war, and post their photos.
"People of the senior generation, whose fathers fought at the front, know well and remember our history. To young people, the vigil of memory is a fine opportunity to request their parents and grandparents to tell them about that war and look through the old photo albums," Abramova pointed out.
The Memory Vigil has been organized by by the MIR network, the Itar-Tass news agency, and the Social Networks agency.
Windows to Russia!