New noiseless and environment-friendly vehicles will be used in the VDNKh area.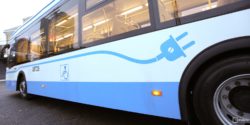 The first 10 electric buses will come into service on 1 September, ahead of the planned deadline. They will serve the routes in the VDNKh area, Deputy Moscow Mayor and Head of the Department of Transport and Road Infrastructure Development Maxim Liksutov said.
"We are planning to launch the buses on 1 September. We will put them on display for everyone to see and explain how they drive and what technical characteristics they have. After that they will take to routes and serve as ordinary public transit vehicles," he said.
The first electric buses will serve routes 7, 34k, 36, 42, 73, 76, 80 and 83. This is a noiseless and environment-friendly type of transport that makes it possible to reduce harmful atmospheric emissions.
"We understand that this is completely new equipment that has characteristics surpassing those of electric buses used by other cities. But we have studied their experience and their best practices and have devised a technical design specification incorporating the most advanced solutions in terms of quality and technical characteristics," he stressed.
Under a state contract, the electric buses will be supplied by the GAZ and KamAZ Groups, which will also service them for the next 15 years.
"Each manufacturer, I mean GAZ and KamAZ, two highly reputable groups, is responsible for every electric bus. I am happy that we have contracted Russian manufacturers. This electric bus is a fully Russian product, it's made and assembled in our country and we are glad that this is so," he added.
Starting in 2021, Moscow will stop buying diesel buses for its surface municipal transport routes and will only purchase electric buses.
The new type of public transit will make travel more comfortable due to lower noise and vibration levels. The electric buses are low-floor vehicles lacking level difference and equipped with USB chargers, climate control, CCTV and satellite navigation systems.
https://www.mos.ru/en/news/item/44028073/
WtR